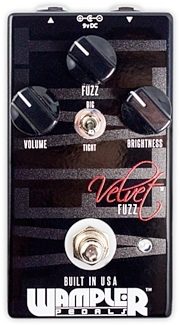 Big or tight, dark or bright? Get your fuzz on any way you like it with this Wampler pedal, which has a Brightness knob to get you fuzzed out just right.
$169.97
---
No Credit Check

No Credit Check
Overall User Ratings
(based on 1 ratings)
Submitted April 15, 2015 by Charlie Fiftywatts in Worcester, MA
"look no further, you found the box to get!&quot
Verified Customer
zZounds has verified that this reviewer made a purchase from us.
I wanted a distortion pallet on my pedalboard, so I bought 1. a Boss Blues Driver (a good tasty overdrive, producing sound ranging from Neil Young to Aerosmith Rocks album), and 2. a Dunlop MXR 75 "Super Badass" distortion box (twice the price of a Boss distortion box, but so worth it. You can get a Van Halen or even ZZ Top sound from that one). Now, those two boxes were solid choices made after much research, and I should have been done there, but for some reason I went back and bought also this Wampler Velvet Fuzz pedal..and, wow...just wow! THIS makes my solid state amp sound like a tube head. It's BEAUTIFUL. It's well worth the money. Put it this way, you can get a Boss distortion unit for fifty bucks, and it'll sound synthetic and cheezy, like you should expect for spending that little. Or you can shell out the $200 for a Wampler Velvet Fuzz and own solid professional equipment that makes you happy every time you use it. If I could go back and buy just one box, it would be the Wampler Velvet Fuzz, hands down. It sounds amazing, like a tube head, and it adds sustain all day. It's my go to distortion-overdrive box now. So if money matters to you, and you don't want to end up buying more boxes than you'll actually end up using, I suggest listen to the youtube on this page, the Wampler Velvet Fuzz box I received actually sounds like that!!! (I'm running it through a Marshall solid state head, which is a poor man's Marshall, yes, no tubes, but this adds the tubes and makes me sound like a rock star (plus girls want to do things for me now like make me a sandwich and run a load of laundry and, oops, well what did you think i was gonna' say? BUY THIS! :D ..oh, I always go too far! *hook comes, and yoinks commenter off the page* (By the way, the guy, who makes these boxes (you can see him in the video), he frequents one of the major music discussion forums (sorry, I don't recall which one. Maybe The Gear Page?) But he's accessible, a real guy, and obviously brilliant at making boxes. Well he offers a full line of them, so look around, if you don't love the sound in the video here, if that isn't quite what you're looking for, see more of his boxes here: http://www.zzounds.com/cat--Wampler--4338
Musical Background:
I play guitar and sing (and play harp). I write music. It's what I do.
Musical Style:
Well, as everyone knows, or should, man reached the zenith of good music making in 1976, and then it was over. It wasn't about
10 of 13 people (77%) people found this review helpful. Did you?
Thanks for your opinion!