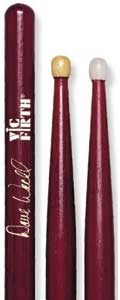 Get closer to that Weckl sound with his signature sticks! The Vic Firth Dave Weckl drumsticks offer great leverage and cymbal strike sound with a barrel tip.
Overall User Ratings
(based on 13 ratings)
Submitted July 12, 2012 by Greg T in Evansville, IN
"The Best&quot
I keep trying other makes and models, but always come back to these, because they just feel better than any other stick. I have also noticed that the barrel tips produce a "punch" out of the drums that is not there with any other stick. My sound man also says that the articulation on the cymbals is the best he has ever heard. Wish the color was different but it is definitely the best stick made.
Musical Background:
Have been playing for over 35 years
Musical Style:
All styles
Did you find this review helpful?
Thanks for your opinion!
---
Submitted November 4, 2007
"The Sex = dave Weckl Drum Sticks&quot
im sure i will bve satisfied with theses sticks untill i have my own signature sticks.. (probably wont happen) but even then .. i would base my stick on these sticks!!!i dont think these sticks would ever becpome bad sticsk!!!.. i think the AHEAD joey sticks, they will become bad sticks, as people break the moulding and wreck their cymbals. but these.. are a quility stick.. GOD BLESS DAVE WECKL AND VIC FIRTH!!!
Sound
The Sound of the sticks is amazing.. ive used them on endless amount of gigs, and they have a unique sound which is perfect for me
Features
well.. drumsticks dont really have features.. but i can compare the difference.. the wood tips are a very good pair of sticks for playing rock and funk.. the nylon tips are good for jazz and are good also for funk.. for adding ghost notes. also the stick gives a good rim shot.
Ease of Use
it is easy to get a good sound from these sticks, as they are perfectly weighted. it helps to have a good sounding kit, the sticks just liven up the kit to a different degree
Quality
if i had a choice of anysticks in the world, it would be these, they are the best sticks i have played with, and ive been a drummer for 10 years! i used to favour lighter 7a's by promark, but these sticks blow the promark factory away.
Value
well.. you cant beat vic firth for value, the best sticks (so i would say ) in the world, for 9!!! you cant beat that
Manufacturer Support
i cant say ive had any problems with the sticks, meaning they are a quality stick, and i think that if i did have a problem and have to call the company (for no reason thinkable) they wopuld be understanding of the problems!
The Wow Factor
they are a cool brown colour, and the white tips from the stick glow in a well lit arena!!! how cool is that! i must say i find these sticls are better then the rest.
2 of 2 people (100%) people found this review helpful. Did you?
Thanks for your opinion!
---
Submitted May 5, 2007 by a customer from gmail.com
"Vic Firth Dave Weckl signature drumsticks&quot
For me they are absolutely the best sticks out there. But choosing sticks are such a personal matter so my advice is to buy some different sticks and try them out. You really can't be sure 100% when you try the in the shops on a practice pad. You have to rehearse with them or gig with them to be sure if they really are the ones for you. All the best drum rolls to all my drum brothers out there in cyberspace!
Sound
Amazing ridecymbal sound with the woodtip shape
Features
Well, its a drumstick...so the features are kinda limited. But it does what a good hickory stick does. And the shape and weight of it is just what I ask for and need. They are kinda heavy in comparison to other sticks like regular 5A and many others...but I like the feel of wood in my hands.
Ease of Use
Its very well balanced. its like it does the rolls itself. I feel they are very easy on my hands because of the rebound i so excellent.
Quality
Quality is superb. Durability is great. I don't brake a lot of sticks but these last for months for me. Also have I been using these sticks for many years now and they always come in very well matched pairs...I have never had problems with the quality.
Value
Well, the value is ok I guess. Too bad for me that the stick that happened to be my favorite was one of the signature sticks. But that's life and its ok that I pay a bit more because it says Dave Weckl on it...even though the name is totally irrelevant to me when buying sticks. If it feels good, use it.
Manufacturer Support
I really can't say how is the support. I have never been in need of any support from Vic Firth...surely because there products are very well made.
The Wow Factor
Well, they are brown...they tend to visually disappear on stage for the audience. It would be nice with another color. But hey, we are discussing the color of a drumstick...this couldn't be more irrelevant. They just work for me and I'm happy with them...that's it.
Musical Background:
Active musican
Musical Style:
everything that has drums on it
1 of 1 people (100%) people found this review helpful. Did you?
Thanks for your opinion!