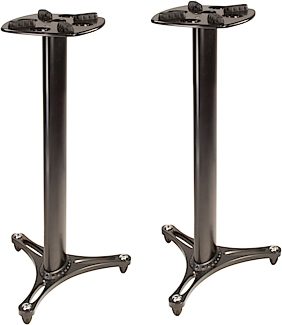 Your pro studio monitors deserve Ultimate Support. Isolate your monitor speakers from the speaker stands with four stable, non-marring sound-decoupling pads.
$319.99
---
No Credit Check

No Credit Check
Overall User Ratings
(based on 2 ratings)
Submitted October 21, 2015 by Homer C in Albuquerque, NM
"Very nice stands&quot
Verified Customer
zZounds has verified that this reviewer made a purchase from us.
This review has been selected by our experts as particularly helpful.
These are high quality stands. They look great in my living room with my Mackie HR824 usa monitors. They don't take up too much space and they work on carpet or hard floors. I have not filled them with sand yet, and I recommend getting some before you buy these so you can fill them before you get them all set up. You will need extra long cables if you're going to run them through the inside of the stands (super cool) but your power cables and XLR should be more than adequate to reach a power source and your audio interface. I got the 36 inch version, I could not imagine algetting the taller ones! Oh and assembly was CAKE. Get these stands! A little pricey but with zzounds payments it's no issue.
Sound
I have nothing to compare these to. If you are serious about recording, mixing, mastering, and have an acoustically treated room I think these would only enhance your monitors. Use sand!
Features
They hold my monitors quite nicely. You can run cables inside the stands for a secure set up, and use sand to make them denser and isolate sound better. The build quality is great, even though they are not made in USA.
Quality
Very high quality. Even for a Chinese made product. The design is superior to any other stands I've seen.
Value
Actually, I found these cheaper on Amazon by quite a bit and zzounds offered them to me even cheaper. Amazing.
Manufacturer Support
Never dealt with them.
The Wow Factor
Always gotta have monitor stands. Looks pro, sexy, and actually makes a difference.
Musical Background:
17 years fiddling with instruments
Musical Style:
White noise death gospel
10 of 10 people (100%) people found this review helpful. Did you?
Thanks for your opinion!
---
Submitted June 2, 2018 by Richard King in South Lake Tahoe, CA
"Classy and durable monitor stands&quot
Verified Customer
zZounds has verified that this reviewer made a purchase from us.
I am so glad that I purchased these stands and NOT the black particle board stands that I almost bought. I read the reviews of both sets and opted for these bad boys and could not be happier. These stands are VERY durable and add an artistic touch to the whole room. They were easily put together and I had them both assembled in about an hour. They have 4 sound decoupling pads at the top of each stand that elevate the speakers and help to give the monitors clean and crisp audio output. zZounds, of course, shipped them light-speed fast (how do they even get their products to us so quick?) and I've already got my monitors (that I also bought from zZounds) sitting proudly on top of the stands now. The stands are assembled with 16 flat-head machine screws (8 per stand) and included the allen wrench to fasten them with in the package. Very attractive and super sturdy. If you buy these stands, you will not be disappointed.
Musical Background:
I have been playing guitar for about 3 or 4 years and am grateful that Zzounds lets me pay as I play.
Musical Style:
Country, classical, rock.
Did you find this review helpful?
Thanks for your opinion!