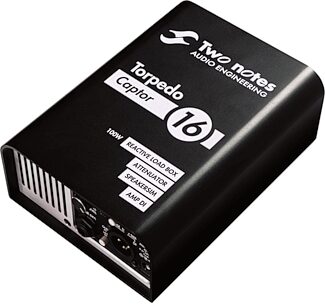 Keep your tone without peeling the paint off the walls! The Torpedo Captor is rated at up to 100 watts and features a DI output with cabinet simulation.
$269.99
---
No Credit Check

No Credit Check
Overall User Ratings
(based on 1 ratings)
Submitted June 20, 2023 by Brent B in Plano, TX
"Perfect for the home studio&quot
Verified Customer
zZounds has verified that this reviewer made a purchase from us.
This review has been selected by our experts as particularly helpful.
Like many guitarists I love the sound my amps make when cranked, but obviously when playing inside of a house this has its drawbacks. I primarily purchased this box for its attenuator function, and for that purpose its perfect. Lets you keep your gig settings and not take the paint off the walls or make your ears bleed in the home studio.I also needed a solid way to directly record my amp output into my interface and for this purpose it worked far beyond my expectations. I have used it both with its on-board analog cab sim using the XLR out, and using the line out in combination with the Wall of Sound plugin that is included.While the on-board cab sim is sounds very good, it lacks controls to tweak the sound of the cab. The Wall of Sound plug-in, included with the purchase, comes with 8 of their fully featured cab, and gives you an extraordinary amount of control over your tone. It even gives the means to expand your mono input into stereo!Really the plug in is the hidden gem with this purchase. On top of the usual tone shaping controls, there is a compressor, control over how "aged" the simulated speakers are, and other nice things such as a power tube emulator that even gives you control over the temperature of the tubes.For the money you get really pristine and un-invasive attenuation for your speaker cab, plus a direct recording interface for you amplifier that has tons of options which all sound amazing.
Sound
For the attenuator, the sound remains intact and unaffected by the attenuation. In particular the touch response and pick sensitivity are preserved 100%. I basically forget that its even there. Same sounds just quieter.The analog cab sim is very good, but I found it a bit one sided since there is no way to change the cab or any of its settings. The line out into the Wall of Sound plug in is the hidden surprise for me on this thing. Ultimately customizable cab simulation, includes 8 awesome cabs with literally 1000+ more available to purchase. The sound is also extremely good. Faithfully captures the nuances of the cabs that I am familiar with in real life.
Features
In the studio my amp is always connected to the attenuator.The wall of sound plug-in is a great included creative tool to customize your guitar tone
Ease of Use
Good sounds are easy to come by with this. Its pretty much plug in and play. With the plug-in its a bit more involved, but the controls are intuitive and its pretty hard to make it sound bad on any settings
Quality
Rock solid construction. Its a passive device so there isnt really anything to break. As long as you mind the 100w peak limit on it there isn't a whole lot to fail on it.
Value
Best value on the market for what it is. There really isn't anything else at this price point that compares
Manufacturer Support
I have no experience with their customer service as I have never had any issues, but being a smaller company based outside the US, I assume they might be a little slow to respond to any issues.
The Wow Factor
While not a necessity, I think that most guitarists could find this product useful. Facilitates reasonable volume levels while still allowing your tones to shine. Also provides are very solid solution to recording. Its certainly much easier that mic'ing up a cab, and the end result is professional quality.
Musical Background:
20+ years guitar, bass, synths, and audio engineering
1 of 1 people (100%) people found this review helpful. Did you?
Thanks for your opinion!