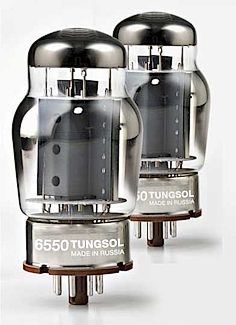 This reissue of the original 6550 Tung-Sol Tubes bring back that dynamic, classic tone that can be found in many of today's top amps.
Overall User Ratings
(based on 20 ratings)
Submitted April 27, 2011 by a customer from gmail.com
"Full, solid sound and graceful under pressure. Don't know about long-term reliability yet.&quot
Verified Customer
zZounds has verified that this reviewer made a purchase from us.
I hope these will last a few years. The sound is great and my only concern is how long they'll take my abuse. As far as I can tell the few pops during warmup are not unusual, but if this develops into a problem, I will be sure to update.
Sound
I am using these in a Leslie 122. I play a Hammond organ very loudly through it, with lots of bass. I also push it to distortion regularly. These tubes sound solid, and fuller than the old Magnavox 6550's they replaced, but didn't quite sweep me off my feet. The bass is tight and the highs are as strong as I could want them. When pushed to distortion, they have a good mix of dirty and warm. I would actually like it a little dirtier, but I guess this means they are taking my abuse well. There are a few pops and clicks during warm-up...not sure if this gets better with age (I've probably run them about 20 hours total). Not a big deal, though, since it stops completely after the first few minutes.
Features
Not much to say here...they're power tubes.
Ease of Use
Again...just power tubes. Plug-and-play
Quality
They look and feel very well-constructed. They sound robust so far, but only time can truly tell...
Value
I haven't tried any of the expensive New Old Stock (NOS) tubes, but it's hard to imagine they sound any more solid and clean than these do. I play hard and loud, so I wouldn't waste my money on fancy tubes that I was just going to abuse. These are serving me perfectly. If you're not looking for a very particular vintage sound, I don't know of anything cheaper or better than these.
The Wow Factor
The Tung-Sol name probably carries appeal for many -- but I just want very robust tubes that take lots of abuse and sound good, especially in the lows. These aren't the original Tung-Sol's but so far have been exactly what I was looking for.
Musical Background:
Active Musician
Musical Style:
Rock, Funk, Soul
9 of 11 people (82%) people found this review helpful. Did you?
Thanks for your opinion!
---
Submitted August 31, 2010 by a customer from yahoo.com
"tung-sol 6550&quot
Sound
I put 6 matched tung-sol 6550's in my ampeg svt 2 pro head and 2 tubes failed in the first month and made my amp go into protect mode. change the tung-sol's out and put the cheap sounding sovtek 6550we's back in and the amp sounds great again.come on people all these tubes are made at the same factory with similar parts and the same workers making them. the tung-sol's,sovtek,electro-harmonic and svetlana's all sound the same to me. sed 6550's are the only ones that I have tried that sound the best and hold their bias points the longest, and don't drift as much over time. sed is the best and is a different company.
Musical Background:
30 years pro session and live
Musical Style:
rock,blues and country
11 of 18 people (61%) people found this review helpful. Did you?
Thanks for your opinion!