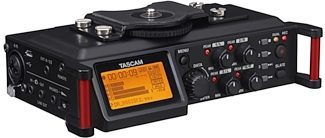 Filmmakers rejoice! The DR-70D features four XLR mic inputs as well as two built-in omni-directional mics, and mounts easily above or below your DSLR camera.
Overall User Ratings
(based on 1 ratings)
Submitted May 11, 2017 by Shaun S in Saint George, UT
"Amazing unit, excellent build quality, highly portable.&quot
Verified Customer
zZounds has verified that this reviewer made a purchase from us.
Overall: I purchased this product to capture audio from my DSLR camera as well as to capture the audio from my live training workshops. It's highly portable and it has numerous inputs and functions. I'm impressed with the overall build quality. Although it is lightweight, it feels like it's built to withstand alot of abuse. It supports a full metal chassis with rubberized base and aluminum support arms that extrude to protect the dials and display. Features: This device is full of features. While the menu can be a bit cumbersome to navigate, recent firmware updates have made it more robust and user friendly. It has independent adjustments for each of the 4 separate inputs, as well as can record ambient sounds through dual built-in microphones. This is especially nice when you want to separate your audio from your focused recording while still capturing the noises happening around you. I especially like the idea of being able to record two different sound levels simultaneously. We have several different audio sources; some much louder than others. This makes it very likely that we will "peak out" at some point. We can always refer to the lower level recording as necessary to capture a better recording. Quality: The knobs are well built and clearly made to last. The display screen is brightly lit and easy to read even in bright daylight. The chassis is nearly bulletproof. I've had no issues with the various inputs and connectors. The rear battery panel has a plastic outer cover (looks sturdy, but could potentially snap off), but it is double-protected with a full metal inner-panel that encloses the batteries. Support: I've not had to use the Tascam support, but zZounds has always been great to help. Sound: We patch the sound directly through our speaker inputs and the sound is absolutely crystal clear. No buzzing or background noise whatsoever from this unit. Ease of Use: As stated before, the menu system can be a bit cumbersome, as each input requires separate customization; however at the same time, it's a huge benefit to have so many options. I've found that sometime when the batteries die, the system is reset to default; making it necessary to reset all of my variables. I also like the fact that it recognizes a USB connection and asks if it's for data transfer or for power. USB power is highly recommended here, as this thing eats batteries like zombies eat brains. I'll go through 4AA batteries (alkaline) in about 4 hours. I wouldn't recommend going beyond that safely. Also, important to note that I DID have an issue with one of my SD cards reading properly. It kept generating errors and failing to record after a few short minutes. I reformatted the card and didn't have any issues thereafter; however I did refer to their 'approved' media list and found that this card was not on the approved list. I purchased a card from that list and it has been completely error free since. Value: I feel I got a great recorder for the price. The quality is top notch and it is highly portable. Bring extra batteries if you plan to be away from a power source. Wow Factor: This is a really impressive little unit. It's very handy and has plenty of inputs for my particular need. 4 channel simultaneous recording is more than enough for my needs. I'll also add that I purchased the TASCAM TM-2X - X-Y Pattern Stereo Cardioid Mic for other recording situations. It sits nicely on its extension arm directly atop the shoe-mount of the tascam Dr-70D. I'd highly recommend it for anyone who wants a high-end stereo recorder to compliment this unit. It's under $100.
Musical Background:
I'm a professional speaker, videographer, and I dabble in music
Musical Style:
I've written over 40 songs and trying to compile them into a broadway I'm writing on my spare time. I'm a professional investor
9 of 9 people (100%) people found this review helpful. Did you?
Thanks for your opinion!