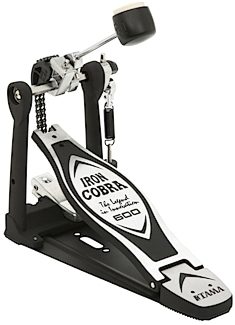 With the Tama HP600, you can choose how you want your bass drum to sound. Its Duo Glide cam lets you adjust the action to fit your style and preference.
$149.99
---
No Credit Check

No Credit Check
Overall User Ratings
(based on 2 ratings)
Submitted May 4, 2015 by Jeff McClain in Columbus, OH
"Iron cobra 600 series High hat and Bass pedals&quot
Verified Customer
zZounds has verified that this reviewer made a purchase from us.
I upgraded to these pedals from basic junkers that came with my kit, and Wow!!! they are even better than I expected, the control and precision of both these pedals is amazing, I would recomend these to anyone seeking to upgrade pedals, you will not be disapointed!!!!!!! The dual cam on the bass pedal is definatly not a gimick my control on the bass drum went up 10 notches immediantly.
Musical Background:
I played Drums years ago and got back into it last year I plan on playing with professional musicians this year.
Musical Style:
Rock, Blues, country
8 of 8 people (100%) people found this review helpful. Did you?
Thanks for your opinion!
---
Submitted April 18, 2021 by a customer from hotmail.com
"Major Upgrade From Tama HP30 Single Bass Pedal&quot
Verified Customer
zZounds has verified that this reviewer made a purchase from us.
I'm just some guy who used to thump on a friend's drum set way back when. After not playing for fifteen years, I bought my first kit some months ago: a used five-piece Tama ImperialStar. It's a great set for the price, but the hi-hat stand and single bass pedal (HP30) are definitely the weak links. I milked the bass pedal's adjustments as best as I could, but within a month I knew I needed an upgrade. So I scored a used Gibraltar single (actually half of a double) pedal on craigslist for $25. This was a huge improvement, mostly in the realm of solidity, as it has a stabalizing plate instead of a radius rod (the bottom of the pedal is a flat piece of metal instead of a bent rod), but also in terms of available adjustments. A few months, and seemingly countless tweaks, later I was much improved but still not where I wanted to be. So I researched single bass pedals and, after reading as many reviews--there's a very helpful review on amazon--as I could find, settled on a Tama Iron Cobra, specifically the 600 Series (HP600D) for $130. I chose this pedal because it's seemingly vastly superior to an Iron Cobra 200 Series (HP200P) for $75 and only slightly less stellar than an Iron Cobra 900 Series for $200. The main difference between the 600 and 900 is that the 900 has a Cobra Coil and tighter tolerances; a Cobra Coil can be purchased for $25 (there's a slot in the 600 stabalizing plate for one) and the tighter tolerances are something I'd most likely not notice given my skill level. Oh, and the 600 has a DuoGlide cam, offering either a round or an angled cam, whereas the 900 has two models, one of each cam style. It arrived yesterday (FedEx botched the overnight delivery so I had to wait an extra day, grrr!) and after quick adjustments of the beater length-angle and the spring tension, it blows the Gibraltar away. Simply, it's smoother, tighter, and more solid in every way. With the Gibraltar there's a "bald spot" that I can't eliminate when doing doubles then going to an off beat; it's like the spring stretches too far and isn't quick enough to return the beater (but I couldn't make any adjustments to fix this; I tried for hours). There's zero "bald spots" with the 600. The reason I only rated it 4.5 stars for quality is because the spring tension adjust nuts are plastic instead of metal, but it's a rather minor nit to pick. As of this typing I can't imagine a better single pedal, certainly not at this price point. I'm sure it's out there, but I'm quite content with the 600 so have no more need to search. Now, about that hi-hat stand...
1 of 1 people (100%) people found this review helpful. Did you?
Thanks for your opinion!