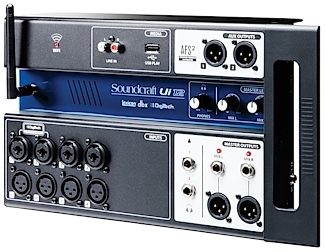 Control this digital mixer from your tablet, PC or smartphone! Sweeten your mix with the Ui12's Lexicon reverb/delays and dbx feedback control.
$395.00
---
No Credit Check

No Credit Check
Overall User Ratings
(based on 1 ratings)
Submitted March 23, 2016 by William W in Paris, TX
"Worth Every Penny&quot
Verified Customer
zZounds has verified that this reviewer made a purchase from us.
This review has been selected by our experts as particularly helpful.
Quite possibly the best 8 Channel mixer on the market...
Sound
Forums and blogs will tell you the preamp's are filled with noise at high gain levels (+30db or higher). I did not have this problem. I believe the issue was present during the first few runs of manufacturing. Soundcraft has obviously solved the issue.
Features
Every channel has awesome dynamic options and great EQ. Compressors are high quality and the Automatic Feedback Suppression algorithms are spot-on. With the feedback reduction settings turned on - frequencies are cut in real time. Frequency cuts are done at very specific levels and the reduction does not take away from the program material in any way. It's perfect.
Ease of Use
The user interface is very easy to use - even for someone who has never touched a digital mixer... I watched the Soundcraft UI tutorials on youtube before the mixer arrived. Upon my first time using it in a real world application, I was able to easily navigate the interface via laptop and had my band practicing in around 10 minutes. Very easy to use and very powerful. If you intend to use an external router with the Soundcraft UI12 - configure a static IP address in the network settings and connect a CAT5 cable from the UI12 to your router using ports 1, 2, 3, or 4 etc... Do not plug the UI12 into the WAN1 or INTERNET port. Think of the UI12 as another computer or device connected to your router. Do not connect the UI12 to your router in terms of it being the "MODEM". It will not work this way.
Quality
The product itself is lightweight and built well. I see no issues with the quality of this mixer. If you intend to take her on the road - I would suggest having a padded case built for it or at least use the original packaging to transport. This is a common sense topic though - protect your gear and it will be good to you...Bang it around and it may not work the next time you set the stage.
Value
Yes. The value of this piece of hardware is unmatched at this point. I have used plenty of 4, 8, 12, and 16 channel mixers - this one is the best I have found so far.
Manufacturer Support
N/A (Have not had to use any support.)
The Wow Factor
The interface flows so smoothly that I cannot imagine giging without it. If you are a band that plays at the same venue somewhat regularly. The snapshot feature will make soundchecks obsolete. Simply save the "Show" and save the "Snapshot" of that show. Select it on the fly and plug in the same way you did last time. All of your settings are saved and you can begin playing immediately. This is a feature only found in much higher dollar products.
Musical Background:
10+ years in sound industry / Guitar, Drums, Keyboard/Piano, DJ / Live Performance
Musical Style:
Prog. Rock
17 of 17 people (100%) people found this review helpful. Did you?
Thanks for your opinion!