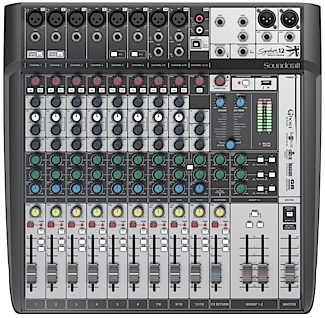 Get Soundcraft quality in a tiny footprint! The 12 MTK gives you 8 Ghost mic preamps, Lexicon effects and 14-in/12-out USB I/O for easy computer integration.
Overall User Ratings
(based on 3 ratings)
Submitted November 4, 2017 by David Belcher in Bluefield, WV
"Fantastic Console with Great Features!!&quot
Verified Customer
zZounds has verified that this reviewer made a purchase from us.
This review has been selected by our experts as particularly helpful.
This IS a Great console and you will NOT match, much less exceed, its quality and what it offers at this price....period!! All these wonderful features and it's NOT a Behringer or something.....it's a Soundcraft!! You would have to spend At least $1,000 or more to even match its quality and features!! What can I say......BEST of both worlds!! 12 tracks recorded to your DAW at once or one at a time.....thru a very hi-fi usb, so the signal stays uncorrupted. So awesome that you can take full advantage of quality analog pre's, the use your Plug-in effects and ANY other great features your DAW may offer, Then back into your analog console for some good old-fashioned analog quality mixing!! Hybrid recording/mixing is all the rage now.....and for Very good reasons!! I LOVE being able to utilize BOTH analog and digital. The slight drop in volume when the signal comes back out is on purpose....you can Easily regain the volume if you need by various means, the simplest being by simply adding a few db to the track in the daw...."problem" solved!! Ghost preamps are VERY quiet and clean. At first, they were quiet until I raised the gain up around 60% of the way, then I heard a fair amount of static noise.....Finally, I realized it was picking up a fan running in the next room. Now, these things are Quiet all the way up!!! They pick up very well, yet are quiet as can be.....hence, the name "Ghost." Damn good preamps!! Many will argue that the Sapphire EQ is perhaps the BEST feature of all. I dunno, it has a lot of good features.....but Damn these Sapphire EQs sound GOOD!!! They aren't exactly transparent like the preamps, but any color they add will be a Plus. Look at reviews online, even the few people who didn't like the board will mention how great the EQs (and preamps) are....Very Musical. The onboard Lexicon effects are totally decent and usable. They aren't the top-notch Best Lexicon has to offer, but they are still very usable and decent quality and will likely get used on your recordings. Various routing options to do all sorts of wizardry to your signals. The dbx limiters work as they are meant to....they are NOT a substitute for regular compression, they serve a very particular purpose. EASY to get setup and recording. All you have to do is make sure you have everything routed properly in your daw and it's damn near plug-n-play (once you do routing and have the right driver downloaded. Super Low latency....NO problems at all there!! Though Most reviews are good, I saw just a few bad ones....nobody complaining horribly, just not what they expected. I have to say, MOST people who don't like these boards simply did not understand how to properly use it or they had problems caused elsewhere they blamed on the board. For the price, I am VERY impressed with what you get with this board....VERY Satisfied!!! You are NOT gonna get anything nearly this good for anywhere near this price.....you have to spend Much more to even match it!! If you cannot make quality Pro recordings with one of these.....it ain't the console!!! *zZounds has possibly the Very BEST customer service I have EVER received!! You Never sit on hold for 20 minutes, they answer SO fast....it's crazy how fast they answer you and are always helpful and nice. Great company!!!
Musical Background:
Played multiple instruments and produced for several years......Semi-pro to Pro level
Musical Style:
ROCK!!! and a few other genres
21 of 21 people (100%) people found this review helpful. Did you?
Thanks for your opinion!
---
Submitted August 5, 2017 by Ken O in Lampasas, TX
"All-In-One: Home Studio Front-End/ Outstanding Live Gig Board &quot
Verified Customer
zZounds has verified that this reviewer made a purchase from us.
We received our 12MTK as gift and are beyond blown away at the quality and options afforded on this mixer. What we like is that the mixer will send mult-track channels back to the board, via USB recording interface/soundcard,allowing us to record dry tracks while monitoring tracks with VST effects within our DAW(Studio One), during recording sessions. The effects on the mixer provide the essential basics for live use, pretty minimal, but what they have going on are pretty darn good. The Ghost preamps added no color or texture, just a flat,almost bland signal.Consistent. But zero trash/noise when we raised recording level for a ribbon,although it was right on the edge. The Ghost's did a fine job an interface recording drums,vocal,bass,keys,etc. This mixer has paid for itself more than once, and is a pleasure to use. We will probably upgrade to the MTK22 first chance. Amazing,exciting tool to use in the music biz!
Musical Background:
Playing and Recording for Decades. Full Sail Graduate
Musical Style:
Full spectrum,eclectic
15 of 15 people (100%) people found this review helpful. Did you?
Thanks for your opinion!
---
Submitted November 4, 2020 by Tre G
"First Time Soundcraft User&quot
Verified Customer
zZounds has verified that this reviewer made a purchase from us.
I have been interested in getting a compact Soundcraft mixer for a long time for live shows for a long time now but was never interested in getting something massive like a 16 channel board and stumbled upon the Signature 12 MTK. I was stoked for the multitrack capability via USB as well as the Lexicon effects which sound so nice. It's perfect for what I need, easy to use, has great sound, and is portable. The only complaint I have is the jack for the power cable is in a weird spot under the mixer but on the inside. I still recommend this mixer for all of its features!!
4 of 4 people (100%) people found this review helpful. Did you?
Thanks for your opinion!