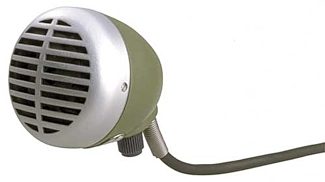 The blues harp harmonica player's weapon of choice for decades, Shure's sturdy Green Bullet is the microphone you'll want to cup in your hands and wail into.
$139.00
---
No Credit Check

No Credit Check
Overall User Ratings
(based on 31 ratings)
Submitted October 27, 2007 by a customer from verizon.net
"For the closet harmonica player wants to sound PRO.&quot
Verified Customer
zZounds has verified that this reviewer made a purchase from us.
This review has been selected by our experts as particularly helpful.
Totally satisfied with both my wife and the Shure Green Bullet. I have no need to look elsewhere for either.
Sound
I have been a closet harmonica player for years, always looking for accoustic value of parking garages, halls, etc. Have the green bullet plugged into a 45 W Behringer K450FX keyboard amp. Response and sound is what I have hunted for. It follows the reed bending with such clarity. My grandson likes to sing into it, but she's not built for that she's built to bring home the blues baby.
Features
The best feature is the way she can be set in your hand with harp over. Suggest coiling the cord once and locking it with your baby finger in case you run out of cord you save the bullet although she is built with heavy construction and can probably take the fall. Placement of the volume control is much nicer than a differnt manufacturer a friend has. He wishes he got the bullet instead.
Ease of Use
Plug it in and GO!!!
Quality
No plastic in this bad boy. Solid heavy construction. Made for travel.
Value
Don't think money can buy better. It's my first and will be my last. But if something happens, I'll re-order another.
Manufacturer Support
Plays great - Haven't needed to call.
Musical Background:
Closet harmonica player.
Musical Style:
Play pop lead vocals on the harmonica and serious deep southern blues.
31 of 32 people (97%) people found this review helpful. Did you?
Thanks for your opinion!
---
Submitted August 23, 2011 by a customer from hotmail.com
"If you're going to play a "Mouth Organ" it should be the Best Anyone's Ever Heard!&quot
Verified Customer
zZounds has verified that this reviewer made a purchase from us.
I've only had it for awhile. Should have gotten the "matching transformer" with it for use on low-impedance input systems. Might recommend it, or I missed it when I read the product description. I'll get it when I order somthing else in the near future.
Sound
Certainly makes my harmonicas sound better
Features
Has a volume control on the mic which makes it so much easier to vary the volume, at source, rather tahn wait for folks to cover tehir ears or dogs to howl on the High Notes.
Ease of Use
The product description tells us that it is a "Large, Hand Held Microphone." I am a large-handed person, ahrd to find gloves for "large-Handed Person." This Mic is almost too big for my hand. So be ready to play with it to get a good 'feel.' I do not use 'diatonic harmonicas' so I can not say how easy it would be to operate. All of mine are small, except "C" harmonica. It actually is easier to use with a larger instrument.
Quality
Rugged. Looks like it came right out of the "1940's - 1950's with that "rugged look" that reminds me of the old vacuum tube radios and "spring held" microphones" for AM Radio.
Value
It should last longer than I do. It is one of the only items on the market for this use that I have found. It appears to be the most rugged and the best price.
Manufacturer Support
It's a "Shure Product." I don't expect to need any. I own 8 and so far so good.
The Wow Factor
As I said, it is right out of the same time period as I am. It is used for hte same type of music I have always loved to play. Now I don't have to try so hard to be heard or stand behind a microphone and stand. If a person is going to play a mouth organ, might as well get the best bang for the buck. That is what "sex appeal" is all about, isn't it.
Musical Background:
Active Musician since 1957
Musical Style:
Bluegrass, Gospel, Blues
16 of 17 people (94%) people found this review helpful. Did you?
Thanks for your opinion!
---
Submitted July 4, 2007
Shure 520DX Green Bullet Customer Review
Perfect mike for blues harp, not for vocal
Sound
I play harp with this mike for 15 years through a Fender bassman, and it simply has the best sound I've ever heard.
Quality
Absolutely robust and high quality
Value
Much better than any other harp mike, and I have played them all
The Wow Factor
It can get a little heavy after a couple of hours, but one can avoid this by mounting it to a standard mike stand
Musical Background:
Active musician
Musical Style:
Blues, Rock, Jazz
18 of 21 people (86%) people found this review helpful. Did you?
Thanks for your opinion!