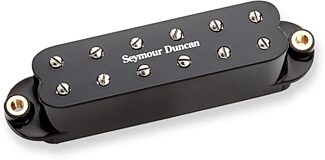 Single-coil size, humbucker sound. The Seymour Duncan Little '59 nails vintage PAF-style tone in a form factor that's perfect for Strat-style guitars.
$99.00
---
No Credit Check

No Credit Check
Overall User Ratings
(based on 1 ratings)
Submitted May 19, 2022 by a customer from gmail.com
"Excellent balance of sweetness, warmth, and cut&quot
Verified Customer
zZounds has verified that this reviewer made a purchase from us.
It's.... Well, it's a Little '59! Single-coil-sized version of Duncan's original "P.A.F." style pickup (they have a few others with slightly different tones and cosmetics), and it's very close to a regular '59 in the sound and response. The way they approach it is totally different of course - this one uses a ceramic magnet instead of the Alnico V in the full-sized '59, as well as a different winding and DUAL polepiece screws - but that's expected when trying to get a P.A.F. sound out of a single-coil housing.
Sound
"Vintage" output level, balanced low and high end with a slightly scooped midrange, somewhat "spongey" or "loose" feel - pretty much how they describe it on their site, but that's not really the whole story. I got this to replace the Dimarzio Air Norton S (another single-coil-sized humbucker) in my Ibanez Xiphos's neck slot, and I REALLY like the upgrade. It's great for smooth, articulate neck-position soloing; clean, overdriven, and heavily-distorted rhythm across a range of styles; and really nice coil-split or out-of-phase tones using the 4-conductor wiring (I go with coil-split). I paired it with a Black Winter Trembucker in the bridge (and reviewed that one on its page here on zZounds), and believe it or not, they're an EXCELLENT match. The combined coil-split sounds with that one do an awesome Strat or Tele imitation, depending on whether you split to the inside or outside coils. And as you'd expect, the Little '59 is spot-on for jazz with the volume and tone controls rolled back a bit. NOTE: A lot of folks will tell you that this pickup doesn't sound EXACTLY like the full-sized '59, and that's true - it's a little sharper and more "single-coil-y". That's to be expected; this version is narrower, so it picks up less of the string and thus less midrange, and the ceramic magnet that they use to get a comparable output level sounds a touch "harder" than the Alnico V in the standard model. Again though, Duncan adjusted the coil windings and output to get as close as possible to the full-sized version, and most listeners who don't play (not to mention plenty of players) would have a hard time telling the difference in a blind A/B comparison.
Features
Very customizable with the 4-conductor wiring and two rows of adjustable pole-pieces, excellent build quality and it looks great too.
Ease of Use
Like with any pickup, you'll want to adjust the height below the strings to get the best response. The aforementioned 4-conductor wiring gives you tons of options for different tones, and you can fine-tune each string's response with the dual rows of polepiece screws.
Quality
I think the name "Seymour Duncan" says it all here - countless professional players all over the world use this brand because they're durable, reliable, and they sound great. This unit is no exception.
Value
DEFINITELY worth the price, and then some! It sounds great, looks great, and lets players with single-coil routes in their guitars get that classic P.A.F. sound without having to cut bigger holes in their guitar.
Manufacturer Support
I've never had to contact Seymour Duncan for any mechanical or quality issues, but I did reach out with a wiring question some years ago - they were prompt, helpful, and responsive, and I don't expect that that's changed since then.
The Wow Factor
Much like the bridge pickup I got to match with it, "tone" is a very subjective thing - some people might like other pickups better. But if you want that old-school humbucker sound without having to route extra wood out of your single-coil-equipped guitar, I can't imagine how you could beat this one. A+
Musical Background:
Guitar player for over 27 years
Musical Style:
Metal, punk, funk, blues, rock
Did you find this review helpful?
Thanks for your opinion!