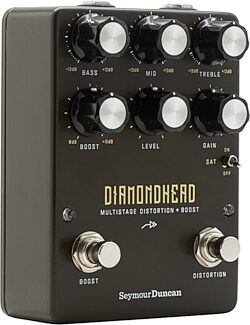 Get the power of a full stack in a small package! The Seymour Duncan Diamondhead distortion has a powerful active EQ onboard and an independent boost switch.
Overall User Ratings
(based on 2 ratings)
Submitted January 6, 2020 by Henry Cline in Oklahoma City, OK
"Oh it's just SO GOOD!!!&quot
Verified Customer
zZounds has verified that this reviewer made a purchase from us.
This review has been selected by our experts as particularly helpful.
I've had this pedal for a few weeks now and I think it's the bee's knees. Let me elaborate below.
Sound
It seems like the question with most pedals is "Can it do classic rock distortion AND modern metal distortion?" I would have to say, yes this can do both. Although, you may have to crank the gain and flick on that saturation switch. And I would say if you're leaning more towards modern metal and not the in between, it may not be the best pedal for you. But it's a versatile distortion pedal, for sure.
Features
This is one of the only pedals that features a boost that can be used independently. THANK GOD. It doesn't make sense to spend over $200 for a pedal that has two features, but they have to be used simultaneously (cough cough the Palladium cough cough). Also, that saturation switch really kicks a$$! (Can I say that?)
Ease of Use
Extremely easy to use if you know what tone you're seeking. I haven't tried it through the effects loop, and I barely messed around with using it as an overdrive to my Fender Super Sonic's distortion channel. I know some people do that but... not me.
Quality
Solid. In fact, I think because of a holiday rush, it was not packaged very well and it actually bounced around in the box zZounds sent it in. zZounds offered to submit a return request if there were any issues. But it still works like a charm!
Value
Definitely worth it. I was saving up for a Palladium for a while (which I think could still be a good pedal to use) but this pedal made me glad I waited.
Manufacturer Support
I haven't had to talk to them about this pedal particularly, but I've worked with Seymour Duncan in the past and they're great!
The Wow Factor
I LOVE THIS PEDAL! Right out of the box, I was blown away. I'm playing through the front of a Fender Super Sonic on the clean channel and I haven't been disappointed so far!
Musical Background:
I've played electric/acoustic guitar since 2007. I've been a studio musician and play some small gigs.
Musical Style:
Rock, metal, acoustic, blues, clown prog metal (jk)
5 of 5 people (100%) people found this review helpful. Did you?
Thanks for your opinion!
---
Submitted June 5, 2021 by a customer from aol.com
"One of the best......&quot
Verified Customer
zZounds has verified that this reviewer made a purchase from us.
One of, if not the best Boost/Distortion pedals I've ever used. Boost and distortion can be used together or individually. Quiet pedal which is great. The lows dont sound too flubby if you know what I mean. The highs sound good too no fizzy, hissy noise you sometimes get with otherdistortion pedals, like the DOD death metal pedal. .The DOD has that hissy sound. yuck. I use this pedal either in front of a Fender Blues Jr. Sounds great! I use it through the loop on a Marshall Combo DSL 40 CR. It sounds great! I also use it With my Helix loop straight to FOH. Sounds great that way too!! The saturation really tightens up and fills out the tone when needed. Cant go wrong with this pedal! Cant go wrong with zZounds either.
2 of 2 people (100%) people found this review helpful. Did you?
Thanks for your opinion!