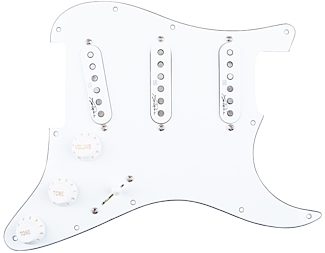 Drop this pickguard into your guitar for instant Hendrix vibe. The Voodoo version features a reverse-angle bridge pickup to really nail his look and sound.
$389.00
---
No Credit Check

No Credit Check
Overall User Ratings
(based on 2 ratings)
Submitted March 23, 2017 by ALBERT P in LOS ANGELES, CA
"Hendrix and much more..&quot
Verified Customer
zZounds has verified that this reviewer made a purchase from us.
Awesome Product... I was looking for new Pickups for my MIM 90's Stratocaster, I had already upgraded the Trem/block and the tuners and the stock pickup were sounding good so I put off upgrading them for a while. When I think of Strat Tone for me it all begins with Jimi Hendrix, weather he played soft and lyrical or tear your head off distortion he brought out the best character of the Stratocaster, I wanted my Strat to sound like that. So I bought it and decided to go with the Loaded Pickguard instead of just the pickups (I figured I wanted all the components to be matched with the pickups and it would also be easier to install) and it arrived in a couple of days, Installation was easy if you know how to solder (if you don't take it to a pro or a guitar shop should do it for $50 or less, it really is very basic and took me about 10 minutes) Once I plugged it into my Fender amp I was Loving the sounds! I can go on and on about how every pickup sounds but its definitely Hendrix and Much More.. I'm getting all the classic Strat sounds of Stevie Ray Vaughan,Jeff Beck,Eric Clapton,David Gilmour. Sounds great playing Blues, Rock, Funk Etc.. and after a month with it I can Honestly say met my expectations and I'm having Tons of fun with my Hendrix LP/Strat. I originally was going to buy the Fender Jimi Hendrix Stratocaster, but after trying it out in a local Guitar shop, I was not convinced to be fair the guitar was probably not set up correctly and I was not in the best sound setting environment, but the sound and feel was not what I expected and not anywhere as good as the Seymour Duncan Hendrix Loaded Pickguard. I usually am weary of celebrity endorsement products, they are more Hype than Product. While I feel I payed a Premium for the Hendrix name, I got Exactly what I was looking for in Sound and Quality. The Story of Duncan giving Hendrix the Pickups and his meticulous notes he took to preserve and then recreate this Hendrix Loaded Pickguard enhances the experience of using them and anyone will be more than happy to play on them.
Musical Background:
Hobbyist musician
Musical Style:
Rock, Jazz, Blues and a Little of everything.
17 of 17 people (100%) people found this review helpful. Did you?
Thanks for your opinion!
---
Submitted July 18, 2017 by Brian B in Browns Mills, NJ
"Worth it!&quot
Verified Customer
zZounds has verified that this reviewer made a purchase from us.
This review has been selected by our experts as particularly helpful.
Bought these for my '03 MIM Strat. My ceramic stock pups were already great and I wasn't expecting vast improvement. My opinion is a bigger percentage of the sound is how one plays and uses the instrument, but some products can make it sound better. I'd say this product is one that can improve your instrument.
Sound
These things are pretty sweet. They aren't that hot and you can get some great classic tones out of them and they'll push to break if you hit 'em hard. You do get the single coil "hum," so get some of that magic paint or copper tape, or these pickups may not be for you.
Features
Vintage cloth wiring, everything is already soldered and put together. I did a pick guard swap very easily because I wanted a different color. Should last forever! It comes with a jack that has vintage cloth soldered to it (that's the only soldering required) no jack plate). it doesn't come with a ground cord (oh well!) Voodoo option is a nice touch.
Ease of Use
Only Jimi could play like he could. If you play light on these you can get good sounds. If you bang on it you can get good sounds. Each position has a different tone, it's very versatile.
Quality
Seymour Duncan takes pride in their products. Again, vintage wiring, everything is put together nicely and ready for a pickup swap. I did a pick guard/cover swap very easily because I wanted a different color. Should last forever!
Value
I don't think these are any better than a set of 69's or something similar, but it is a loaded pick guard straight from the factory! I only bought this item because it was on zZounds. I have some great quality items thanks to the "play as you pay" option. I'm not able to shell out $400 all at once, but I can do $60+ a month! Thanks, zZounds!
Manufacturer Support
I had no issues with this particular item. Seymour Duncan has hooked me up in the past with a pickup swap. Very friendly, easy to work with.
The Wow Factor
They are very crisp and clear and you can get some of those great tones you've heard the greats play! I'd also like to say, if you can't afford a better set of pickups, you don't need them. Just keep practicing with the ones you have. Use your knobs and look for the tones you want in your amp. Upgrade as time allows and then get these!
Musical Background:
Been playing guitar for 5 years. I jam at home and I have some home recordings on iTunes
Musical Style:
Rock, Reggae, Blues, Ska, whatever I feel like.
11 of 12 people (92%) people found this review helpful. Did you?
Thanks for your opinion!