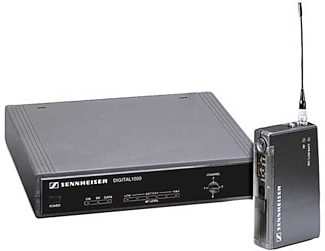 Digital in that it doesn't use a wireless compander circuit.
Overall User Ratings
(based on 53 ratings)
by a customer from bellsouth.net
"User Feedback: Sennheiser 1092GTR Digital 1000 Guitar Wireless.&quot
Verified Customer
zZounds has verified that this reviewer made a purchase from us.
This review has been selected by our experts as particularly helpful.
Features
I bought this unit for my guitar. It came with the signal receiver, transmitter and cord to hook to guitar. A very nice case was provided to neatly store each unit. I bought this unit for several reasons. One, folks on the stage were tripping over the guitar cord causing my guitar to fall while stored. Second, folks moving on stage would stand on my guitar cord at the worse times, causing a dilemma to diplomatically tell them in front of an audience to get off my cord. And last, you can understand the freedom to move for whatever reason on stage or practice sessions and not be restricted in your movement. I don't have to be bothered by the restrictions of a guitar cord anymore. The feature on the receiving unit that provides a "power" indicator of your battery life on the transmitter is very useful if not vital for obvious reasons. There is also a "mute" selection on the transmitter; however, I have not found the need to use that option. On a mild negative, regarding the pocket size transmitter, I found the metal "clip" for attaching it to your belt or pants is very hard if not practical to attach the unit as intended. So, I just put it in my front or back pocket. However, it would benefit the customer to have an easier means to fulfill this intended function.
Quality
The product, finish and fit appear to be made with quality in mind in regards to a company that intends to stay in the business. I consulted a friend of mine (prior to purchase) who has done stage shows for top bands at casinos and he stated that Sennheiser is the best. I don't "go on the road", but if I did, I would take it. With the limited time I've used the unit, I would say the worst drawback (if you had to pick a worst) would be the battery life on the transmitter. With my limited experience, don't expect over 4 hours per 9-volt battery on the transmitter. In other words, keep a spare. Having said that, the receiving unit will provide you visual feedback as to the battery life.
Value
For me, after owning this unit for about one month, it is definitely worth it. I've been playing the guitar for about 32 years, and yes, I was amazed and mesmerized that this sort of sound was possible in a wireless unit. I could tell absolutely no difference between using a cord and using this unit, other than the restrictions of the length of a guitar cord.
The Wow Factor
I play main rhythm and lead guitar parts. It has compelling appeal to me even though I could make music without it. The advantages of the wireless freedom provide me the edge that I can feel and also express physically and emotionally during practice or performance.
13 of 13 people (100%) people found this review helpful. Did you?
Thanks for your opinion!
---
Submitted September 15, 2003
"great product!!&quot
Sound
its sounds great, i've been playing for years and can't tell the difference. sensitivity of the transmitter does need to be turned down alot so you don't blow speakers, but its nice to have the extra power if needed. bottom line is, i love it and i am very happy with it.
Quality
can't beat it especially for the price
5 of 5 people (100%) people found this review helpful. Did you?
Thanks for your opinion!