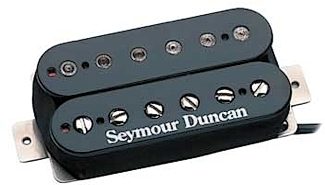 Round out your sound with a balanced attack. This pickup adds the perfect amount of power, sustain, and distortion to your playing.
$99.00
---
No Credit Check

No Credit Check
Overall User Ratings
(based on 17 ratings)
Submitted July 9, 2019 by Braden B in Peru, IN
"Probably the best sounding Duncan humbucker.&quot
Verified Customer
zZounds has verified that this reviewer made a purchase from us.
bought this to put in my SG loaded with the SD whole lotta humbucker set. While i loved the neck pup, the bridge was just way too much flubby low end and there wasnt enough output for what i was trying to play. replaced it with the custom, and there was instant improvement. it has similar tonal characteristics to a PAF pup, but with a really nice and tight and punchy low end, and much more output, probably about like a JB, more or less. It'll satisfy your metal and rock needs, but cleans up pretty well too, ranging from full on clean to a bluesy overdrive sound. Make no mistake though, this guy is made for gain.
Musical Background:
A musician for 9+ years, a regularly gigging musician for 6 years.
5 of 5 people (100%) people found this review helpful. Did you?
Thanks for your opinion!
---
Submitted January 23, 2006 by a customer from yahoo.com
"I like this pickup!&quot
This review has been selected by our experts as particularly helpful.
I really like this pickup, and I plan on installing one in another guitar very soon.
Sound
I play original hard rock music, and this pickup cuts through great. It has a great tone and lots of power, but it also cleans up well. I like this pickup better then the SH-6 (Distortion). I love it.
Features
Not to sure - I never opened the box, and I had it installed professionally.
Value
Compared to other replacement/upgrade pickups, this is a good value.
Manufacturer Support
I have dealt with Seymour Duncan before, and they have always been extremely helpful and knowledgeable. Seymour Duncan even took care of me once!
Musical Background:
Active Musician - 25 years
10 of 12 people (83%) people found this review helpful. Did you?
Thanks for your opinion!
---
Submitted July 8, 2006 by a customer from mastertex.com
"My 20 years experience for using Seymour Duncan SH 5.&quot
Oh if i ever think to get it replaced I would like to change it with Duncan JB 59. I never heard its sound but I found this particular pickup fixed or preferred by almost every guitar manufacturer. So some kind of curiosity has developed in me.
Sound
I basically put it in Yamaha electric guitar a les paul (japanese made) version type a very old model. I purchased this pickup in 1986 when it was first released. I also fixed a split coil switch with it. After playing the guitar with this pickup I came to know what a good pickup is like. It has a lot of power especially in series mode and quite warm. In parallel mode it has a more clear sound but slightly reduced output. It works very well with amp overdrive as well as with distortions pedals. When you crank this pickup through overdrive unit it really gives beautiful crunching sound with lot of bite. Its sound is very smooth and even. It is a very interesting to play the guitar with this pickup. Oh yes this pickup really comes into its own when you adjust its height slightly higher and then just feel the clearity and midrange so beautifully comming out from the amp. Yes I played this pickup in clean amp setting and it gives nice sound but it is a real pleasure to play it in soft or heavy distortion settings. Yes I played it live and it sound just great.It has a very good insulation and sound with high out puts it does not make any feedback or there are no nosises whatsoever. I personally feel that this pickup is just right for my guitar. When this pickup mixed with bridge pickup mine is a PAF Dimarzio one and its gives just the right type of very interesting different sounds variations with different settings/mixing. I do not think that anything is missing in it.
Features
Yes this pickup package consist of a complete diagram but one thing was missing is the split switch which i think may be provided with it.
Ease of Use
Yes it just a perfect pickup. Yes the manual is quite updated.
Quality
Oh yes one thing which i found lacking in this pickup was the finishing which was not so good. But it was a long time ago about 20 years when I bought it and probably at that time the Seymour did not noticed it but now the present productions has excellent finishing. One thing which I noticed that the pole pieces has developed rust but as compared to my Dimarzio pickup which is as old as this one does not have this defect and the finishing of the later one is also quite noticeable even after usage of 20 years. So I think Seymour should put more attention on the finishing of its casing and other exposed parts.
Manufacturer Support
No never had a chance to deal with them may be because the product never gave me any problem.
The Wow Factor
I am very much satisfied with this product. It never turn me down. As far as sexy term is concerned it is normal.
Musical Background:
26 years. For 8 years I was a active musician and now I am a hobbyist and a chemical engineer.
4 of 12 people (33%) people found this review helpful. Did you?
Thanks for your opinion!