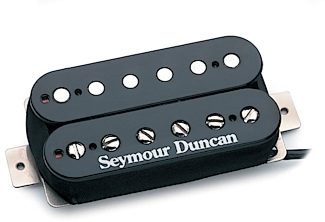 Balance your attack with this humbucker pickup. It delivers a vintage tone with less distortion than the SH-5.
Overall User Ratings
(based on 24 ratings)
Submitted August 24, 2015 by Robert M in SWELTERING, NJ
"SH-14 CUSTOM 5,... SCHENKER SHOULD HAVE HAD ONE OF THESE BACK IN HIS GIBSON DAYS!&quot
Verified Customer
zZounds has verified that this reviewer made a purchase from us.
I had an ESP/LTD EC256 Lemon Drop that had the 150 humbuckers in it,and,they really are Pretty Bad,..I Ordered the SH-14 to either Install in a project,or,if I got BORED and wanted to try it in one of my Regulars. I opted for the LTD EC256,and Let Me Tell You,I LOVE THIS GUITAR,..It reminds me of MICHAEL SCHENKER in his UFO/MSG Days,BUT HEAVIER!,Just more Articulate with chords,LOTSA SUSTAIN,Harmonics are incredible. And One thing I didn't expect,Roll back on the Volume,It cleans up Real Well,Still Very warm,Not Muddy,I have a feeling that I'm going to be buying a few more of these : )
Musical Background:
Been Playing guitar since I had my FRAMPTON COMES ALIVE Poster On My Wall,I HOPE they have zZounds in HEAVEN!!!
Musical Style:
Rock,Blues,Hard Rock,Mild Metal,..NO "EL SCREAMO" Stuff,Classic Rock,My Own SCHTUFF,.. : )
4 of 5 people (80%) people found this review helpful. Did you?
Thanks for your opinion!
---
Submitted June 7, 2017 by Gilbert X in Miami, FL
"My pickups choice from now on! &quot
Verified Customer
zZounds has verified that this reviewer made a purchase from us.
This review has been selected by our experts as particularly helpful.
This pickup is beautifully incredible. turned my Premium Ibanez into a beast.
Sound
from my experience as a progressive Metal guitarist i can tell you that this pickup although not as powerful as other models it's still capable of delivering enough gain to keep up with all my playing demands. chunks and chugs are compacts and with a lot of presence which is essentially one of the most important features in metal music. harmonics have a lot of presence too. the tone is simply astonishing when soloing and powerful for chords, slides are beautiful, crystal clear when need it, articulated, dynamics are very responsive, all in one package. i can't say enough.
Features
lots of combinations to connect. sounds amazing!
Ease of Use
if you know what you are doing of course. read the diagrams if ever you need help and don't forget to try all combinations before you close the guitar. very versatile in terms of tone. i guess it will go alone with any style on earth but if you are picky check your amps, pedals or whatever extra gear you use. do not expect two different pickups sound the same or better without moving a knob if you are upgrading.
Quality
I've been using Seymour Duncan for ages without trouble. so i would say when you see the brand name "Seymour Duncan" on a product, no doubts the quality is top notch.
Value
good value compare to most pickups out there.
Manufacturer Support
never had the need to contact them.
The Wow Factor
this pickups deliver everything i need to my performing demands which on my opinion are high. in the music affairs, that's all a musician could ever ask for. of course if you are one of those guitar players that only play one note riff or two to three chords songs you probably won't appreciate the good value of this craft.
Musical Background:
+30 years playing guitar.
Musical Style:
Progressive Technical Metal
1 of 2 people (50%) people found this review helpful. Did you?
Thanks for your opinion!