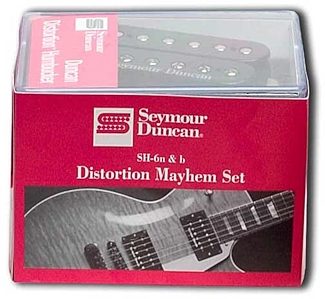 This set comes with 2 SH-6 Duncan Distortion humbuckers for the neck and bridge positions, along with the mounting hardware and wiring instructions.
Overall User Ratings
(based on 12 ratings)
Submitted September 27, 2011 by a customer from diamondbleather.com
"Seymour Duncan's best set on the market.&quot
Verified Customer
zZounds has verified that this reviewer made a purchase from us.
I expect these pickups will be in the Les Paul as long as I own it. I don't see myself changing them. I will be adding a tap before to long to give more range and sound.
Sound
For the price of this set, you will not find any other pickups to touch them. Sharp clean sound wither using distortion or clean. I would recommend these to anyone wanting to wake up you sound with out going full on active. They are right under my ZW EMG's, not by much.
Features
Only thing about these pickups has nothing to do with the pickups. Seymour Duncan needs to drop the slotted screws and go with a phillips or even cooler go to a socket head or torx head style. I know not everyone has the torx head, but for the look it would give and the 3 dollars at the local department store for one you can not complain much. The slotted screw does make it difficult to start the screws. But these pickups are hardcore awesome.
Ease of Use
These pickups are so responsive to sound you can breath on them and they pickup! They made my custom Les Paul I was building Scream. But what really shocked me I did not lose my Sweet Clean sound that I love with the Les. For the price of this set you will not find anything to touch them or I have not found any other brand that could.
Quality
I have always loved Seymour Duncan pickups. They are road tested and are some of the best you can buy.
Value
Best price on the market. Will have another set for to long just in case I find another toy to put them in.
Manufacturer Support
I installed the pickups myself, just went with they wiring diagrams on the site and they had every style of wiring set up you could imagine. Way to go Seymour!!!!
The Wow Factor
It would be cool if they would do the same style pickups with the options of covered chrome, black outs, and etc... This set is in my opinion the best Seymour has out. Why not give options too.
Musical Background:
Active Musician
Musical Style:
Blue grass to Drop tuned Rock
10 of 10 people (100%) people found this review helpful. Did you?
Thanks for your opinion!
---
Submitted August 29, 2020 by Mark R. Garner in Covington, LA
"For More Than Just Metal!&quot
Verified Customer
zZounds has verified that this reviewer made a purchase from us.
This review has been selected by our experts as particularly helpful.
Summary: This is an incredibly versatile set of pickups. They're capable of more than just metal
Sound
I put this set into a Squier Contemporary HH Strat and after some trial and error experiments with pickup height, I am blown away by the versatility of this set.You want METAL, you got it.You want funk ala 'Love Rollercoaster' by the Ohio Players, you got it.Blues, psychedelia, pop, Skynyrd... It's all here if you know to EQ your gear.I've used this guitar through three Marshalls; a DSL1CR, an Origin 20 head through an MG412, and a Valvestate VS15R.Through the clean channel on the DSL I found it really easy to drive the tubes for a nice dynamic sound that varies with the nature of your picking technique. Through the Ultra Gain channel... Pure Mayhem - roll back the treble.With the Origin 20 I found a similar response as on the clean DSL, just louder.The VS15R is solid state and the variety of sounds was totally dependant on the EQ settings. The VS15R has dual pre-gains and with both of them dimed... ULTRA MAYHEM.I've also run this set through a Vox VT40X using the 'Fender Deluxe Reverb' model. With some light compression and a splash of reverb you can achieve a funk sound that is suitable for everything from RHCP to the Ohio Players.I had no idea... This is one incredible set of pickups!
Features
When I modded the guitar I replaced the stock 'master volume/master tone' pickguard with a standard Strat model except that I configured it for dual volumes and master tone.If you, the reader, intend to put these pickups in a Strat style guitar, I IMPLORE you to not go the 'master volume' route. By tweaking the individual volume levels you can get an endless variety of sounds. With a master volume you are cheating yourself out of so much... It's almost an insult to these pickups to use a single volume to control them.
Ease of Use
It's incredibly easy to get a great sound from these pickups. It's all in the amp's EQ and the height of the pickups. I found the "sweet spot" to be half way between the strings and pickguard.
Quality
This is a US made Seymour Duncan pickup. Their quality... Dumb question. Next!
Value
For the price this set is an incredible value.
Manufacturer Support
I've never had a problem with SD pickups, but I've only been using them since 1986 so...
The Wow Factor
"Wow Factor"... In summary I would say this set is like a slight brighter and more modern version of the DP100 Super Distortion. Yeah, they're THAT GOOD.Wow, huh?
Musical Background:
Former semi-pro now a stay-at-home jammer.
Musical Style:
Rock, rock and rock.
3 of 3 people (100%) people found this review helpful. Did you?
Thanks for your opinion!
---
Submitted July 19, 2007
"there seymour duncans what do u expect?&quot
these distortion mayhams do everything that i could ever want from a pickup. they give virtually no feedback, handals dropped tuning like no other, they are already pre matched for the best sound and they dont cost a fortchune!
Sound
the sound that these humbuckers produce is absolutly amazing. i dropped these seymour duncans into an old 1997 eppiphone that i bought form a friend. i didnt expect the sound to change drasticaly because it was an eppi but i was way wrong. i play at drop c and these pickups handel it great! the lows are beastly and the highs are crisp and punchey. if ur looking for a great set of pickups for metal or punk i suggest u stop looking and buy the distortion mayhams but if ur looking to play clean then this might not be the best option.
Ease of Use
u drop these bad boys into any guitar and ur good to go. as long as u know what ur doing these humbuckers are very easy to use.
Value
these pickups are well worth the money and there already pre matched so u dont spend money on a pickup combination that dosent work out.
The Wow Factor
i would rather have these pickups than my friend! they dont exactaly look y but its whats on the inside that counts right?
Musical Background:
Active Musician
Musical Style:
, metal, blues, anything but country
38 of 46 people (83%) people found this review helpful. Did you?
Thanks for your opinion!