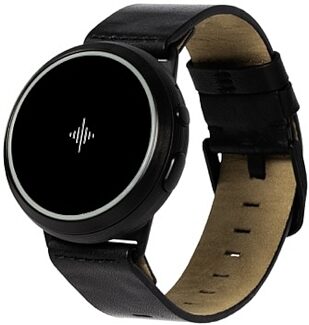 Made of steel with an Italian leather band, the Soundbrenner Core Steel is a luxury musician's smartwatch with features like a tactile metronome and tuner.
Overall User Ratings
(based on 1 ratings)
Submitted December 28, 2019 by Pedro G in Burleson, TX
"Buy the Pulse, not the core&quot
I acquired mine via Kickstarter. The device build quality is poor. Do not expect one solid screen. The display is a large plastic piece with 2 cutouts for a watch display on the bottom and top. The wheel is scratchy and inconsistent. The light up ring is not solid, but shows uneven levels of illumination. The decibel meter is a gimmick at best, and when comparing side by side to my dedicated dB meter, it is proven innaccurate. The notifications do NOT work, it was released by soundbrenner knowing this feature does not currently function as of 12/28/19. They plan to release an update to enable the function in "q1". This is a direct quote from support. Considering they delayed the release of the watch from March 2019 to December 2019, with many backers not receiving their devices yet, I wouldn't get my hopes up on a timely release. The watch functions without your phone, but turning the metronome on requires tapping the screen, which changes your tempo right before the metronome starts, as tap tempo is automatically enabled. This is an oversight that really requires you to have your phone at all times so the device functions properly. The final nail in the coffin is the water rating. It is rated at IP66, meaning it is splash resistant and dust resistant. Given the poor build, I should have realized this was an over promise as well. I had my watch on when it started raining. I walked out of the car into a store, and the watch died. Now I have nothing. As a Kickstarter backer I paid 180 including shipping. This was way too much money for this underwhelming device. It is currently priced at $229 for the core and $329 for the core steel, which is just robbery. This device may have been worth 229 5 or 6 years ago, but is a joke by today's standards. (At the time of this writing, the Fitbit versa 2 is $179, and includes health tracking, true IP rating, sleep tracking, high quality metal components, personal assistant, functional notifications, 2x the battery life, and a vibrating metronome app; the vibration is not as intense, but useable for practicing guitar or bass). If you want a vibrating metronome just save your money and get the Pulse $79. The "screen" adds nothing as functionality is poor without your phone and notifications are still not available. Seriously, save your money.
6 of 8 people (75%) people found this review helpful. Did you?
Thanks for your opinion!