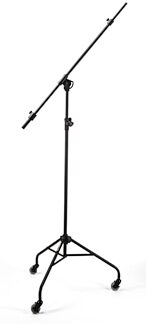 With locking casters and an adjustable counterweight, this super-stable studio boom stand adjusts to over 12 feet in height and 6 feet in horizontal reach.
$99.95
---
No Credit Check

No Credit Check
Overall User Ratings
(based on 7 ratings)
Submitted June 6, 2007 by a customer from comcast.net
"Don't waste your time. They won't hold up under even the lightest use.&quot
I think I have said it all. I have worked with all sorts of audio and musical equipment in the past 30 years and my experience with 3 of these stands has truly shocked me. I can't imagine what they would really be suited for in a real world situation. They just don't hold up to even the lightest use. If Samson could provide a free hardware upgrade (thumb and hand bolts) then they might be worthy of a decent review. I know my review of the product may be hard to believe (I'm even surprised), but I feel I have given a fair and unbiased review. I believe credit should be given where it is due. In regard to these stands, Samson deserves no credit. Having had my hands on 3 of them it seems to me my experience has been more than a coincidence.
Sound
Well, it doesn't make any sounds, so this one's a moot criteria.
Features
The stand quality is decent, however, the thumb bolts and hand adjustment knobs are not good enough for even light use. The boxes the stands are shipped in provide inadequate protection for the product. 2 out of 3 stands I ordered had damageded thumb bolts as a result of Samson's poor packaging. In two instances, the upper boom thumb bolts were actually protruding through the shipping carton but still intact (though one was bent). In the 3rd case, the the same bolt had protruded through the carton during shipping and had actually snapped off and was loose in the carton. The first time I attempted to elevate the stand base into position, the lower hand knob snapped off. These stands certainly are not anywhere near professional quality and don't even hold up under light use. Avoid them.
Ease of Use
Providing you don't have any bolts break the stands are useable. I would not, however, recommend moving or adjusting them much as they likely will not hold up to much readjustment.
Quality
This is the kind of product I would expect to find at a generic retailer. Truly disappointing and far from professional quality.
Value
Maybe. I wish now I had spent more on a more reputable brand.
Manufacturer Support
Zzounds was great in getting me a replacement sent for the first stand that was damaged. They said they would contact Samson to have a replacement thumb bolt sent for the one that arrived bent. After nearly a month and a half I still have not received the thumb bolt. My suspicion is that Samson's customer service is on par with the quality of these stands... terrible.
The Wow Factor
It has been said to never judge a book by its cover. This stand looks nice and has some great features, but the quality of key components is inferior.
Musical Background:
Active Musician, Sound Technician
16 of 17 people (94%) people found this review helpful. Did you?
Thanks for your opinion!