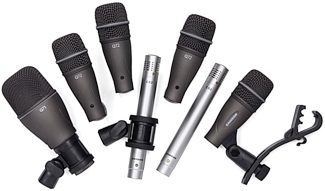 Samson's DK707 microphone set gives you everything you need to mic up your drums -- one Q71 kick drum mic, four Q72 mics, two C02 overhead mics, and a case!
Overall User Ratings
(based on 1 ratings)
Submitted April 19, 2018 by Kyle M
"Worth Every Penny&quot
Verified Customer
zZounds has verified that this reviewer made a purchase from us.
This review has been selected by our experts as particularly helpful.
If there is a sweet spot of performance and price, this is it!
Sound
I use these to record with my band in a 10x20 concrete storage unit and manage to get usable recordings! It takes some time to really dig into mics and learn them but these have not disappointed in anyway 4 recording sessions in trying different placements and setups! I've done 3, 4, and full mic sessions all of which I'm pleased with considering the amount of noise in such a small space. The overheads are the backbone here, being my second set, they have little noise and are surprisingly clean. Tom/Snare mics are solid, kick mic delivers a healthy thump. 3 and 4 mic setups work very well considering the environment and the full kit sound isn't lacking for the average user.
Features
Comes in a sturdy plastic case with snug foam slots for each piece, even the individual clips. All 4 of them! The condensers have they're stand holders as well. The plastic clips that hold the tom/snare mics are decently thick, sturdy, and haven't moved yet so I just leave them on once set since I don't move the kit from my place.
Ease of Use
Plug and play, I leave the gain low and mix in the box!
Quality
I set up and tear down every session but haven't played any gigs with them. I'm confident they're up to the task and will last. My only complaint is the thread adapters for the mic stands had a few goofed threads and you don't want to ruined the threads, thus the whole stand. But none of them caused me issues. Just something to be aware of. They appear to be cast and not machined.
Value
Excellent bang for the buck of your jamming or playing shows. They sound great and are made to travel! Perfect for your first set, gigging sets and definitely usable for recordings which is what I do!
Manufacturer Support
Never need it. And this is my second pair of Samson C02s.
The Wow Factor
Samson keeps impressing me with their value per dollar and I would definitely buy again if anything happened to these! This is my first full ser and it was totally worth it to finally get a balanced full recording!
Musical Background:
Drummer, aspiring producer/engineer
Musical Style:
Rock. Metal, blues, anything really!
8 of 8 people (100%) people found this review helpful. Did you?
Thanks for your opinion!