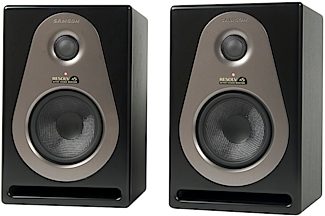 Bi-amp power with 50 watts on the LF driver and 20 watts on the HF driver.
Overall User Ratings
(based on 8 ratings)
Submitted February 13, 2009 by a customer from aol.com
"Revealing Resolvs....&quot
Verified Customer
zZounds has verified that this reviewer made a purchase from us.
Since I got a deep discount on my pair,I would not replace them for the typical street price.
Sound
For what I paid for my A5's,I cannot find any fault in these monitors,which is why I gave them a 10. Some notable improvements over the old Resolv series-particularly in the mid & high frequency ranges,as they articulate mixes surprisingly well. The overall bass response is a slight improvement with the A5's,as there is a bit more bass than the old Resolvs but still a hint of boxiness/boominess at high volumes,but nothing that presents a problem. These monitors get the job done quite well,as they give a very fair representation of live sounds & recordings & I am under the impression that mixes will translate well to other systems,but I cannot confirm this,as I've only owned them for few hours.
Features
I find the 4 position high frequency control to be useless,since the tweeters sound fine at the flat position & going beyond the flat position would make the tweeters entirely too bright & harsh.
Ease of Use
My A5's are ideally positioned in a properly treated room,so that being said,it was effortless for me to achieve the sounds I was looking for.
Quality
Samson-for the most part,have been very reliable & these monitors seem to be built exceptionally well...very solid.
Value
For the typical street price,the value is good.
The Wow Factor
It's mainly a practical addition to my studio,as secondary monitors,but in terms of appearance,these are some bad mofo's!
Musical Background:
Veteran Keyboardist,recording hobbyist,programmer
Musical Style:
Ambient,Electronica,Jazz,Rock,Pop,........
19 of 21 people (90%) people found this review helpful. Did you?
Thanks for your opinion!
---
Submitted February 20, 2013 by Skyler Bergman in Levelland, TX
"They definitely get the job done&quot
Ive owned a pair for about a year. I'm also in an acoustically treated room. I usually mix on the mackie 824s. Price aside, these monitors GET THE JOB DONE! I've covered the ports with hand towels. That's a trick I've learned from my textbook. If you buy these monitors, do that. I keep the high pass at 0dB and the volumes at midnight. You will instantly hear tighter lows and low mids. If you listen to a lot of music through these monitors your ears will adjust to hearing what a song should sound like on a commercial level. You will learn to mix in that manner sub-consciously. Sure it's nice to have a very expensive pair of monitors. It is NOT necessary. I would recommend a pair of the a5's to most people interested in buying monitors without spending a ton of money.
Musical Background:
10+ years
1 of 2 people (50%) people found this review helpful. Did you?
Thanks for your opinion!