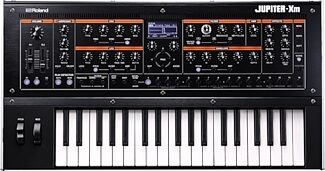 Inside the compact 37-key Jupiter-Xm lies a beast! Stack 4 synth layers plus a drum track, with sounds inspired by Roland classics and a smart arpeggiator.
Overall User Ratings
(based on 1 ratings)
Submitted June 5, 2020 by Maria L in Mount Bethel, PA
"Roland Jupiter XM: A Weird and Complicated Little Unit&quot
Verified Customer
zZounds has verified that this reviewer made a purchase from us.
I tend to be a Roland fan, starting with my first synth a 106 that still graces my home studio. More recently I enjoy the JD-XI (despite the cheap build quality) because it is immediate and fun. The limited sequencer is a joy to use. With the advent of Jupiter XM I was hoping would be more of the same, except with more sounds, and better build quality. Maybe a song mode for the XI type sequencer. Instead the XM is quite a weird little beast.The new Zen Core engine seems to me to just be ACB with a new name. It emulates classic Roland synths fairly well, although it does better with the less complex models like the SH and 106. The Jupiter part lacks the authority of the original. None of the sounds actually has the analog "fatness" or "warmth" to my ears. At no point, did it ever seem anything but a digital synth engine. The presets make good use of the digital effects and this seems to be the source of whatever fatness the XM possesses. To me, the biggest waste of memory and money is the "I Arpeggiator." Basically it is auto acompanyment and seems kind of cheesy. I have been messing around with one preset, playing some chords and I heard a guy on Youtube jamming pretty much like me. This is not a feature I want on a 1k synth. Meantime the sequencer on the XM seems pretty limited. Sadly, it is not simple to use like the XI, but a complicated afterthought. So it's not exactly a workstation due to the sequencer being rather obscure. Nor is it really a flagship with the mini-keys and cheesy "i arpeggiator." The build quality is light years from the JD-XI, but also a long way from Roland's classic synths. It has a couple of decent digital emulations of Roland's biggest hits. In the end, I think Roland tried to cram too many ideas, none thoroughly fleshed out, into one chassis. The XM does many tricks, but is a master of none.
Sound
Probably the strength of the unit is the quality of the digital emulations and the effects. They are decent aproximations of the analog units of Roland's heyday.
Features
The "i Arpeggiator" is great if you want to sound like you are using a home keyboard. I don't mind the small size and actually like that i can play in in bed when my back is acting up.
Ease of Use
You can power up and start playing pretty easily. Other than that, this unit is complicated with a lot of menu diving. It's a pain in the butt, not fun.
Quality
Compared to the JD-XI or even XA, this seems to be a tight little unit and I would use it on gigs. It is pretty plasticky though, so it's not as solid as say the Rev2 which is only a little bit more cash.
Value
Sadly, i think this keyboard is overpriced. It should be selling for around $600. Honestly, I'm not sure what Roland is doing anymore. They seem to be stuck in a rut of releasing seemingly the same digital recreations in boutique form, or now this zen core line-up. The synths people are lusting for now are Dave Smith, Virus, Moog, etc. Roland seems to be unable to make a modern analog poly synth.
Manufacturer Support
Roland always has been pretty good with support. I've had no problems with the unit.
The Wow Factor
No, i don't really see it as having a "wow" factor.
Musical Background:
Been playing synths since the early 1980s
Musical Style:
Futurepop, synthpop, ebm,
13 of 16 people (81%) people found this review helpful. Did you?
Thanks for your opinion!