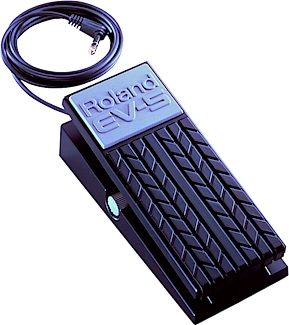 Control parameters of any unit that has an expression pedal input with the Roland EV-5 expression pedal.
Overall User Ratings
(based on 48 ratings)
Submitted December 6, 2007
"If you need a simple expression pedal, get this one.&quot
Verified Customer
zZounds has verified that this reviewer made a purchase from us.
If someone comes up with the guts of the EV5 in a metal housing (like an Ernie Ball volume pedal) and a jack instead of a fixed cable, I'll replace my EV5 in my setup.
Sound
This pedal does not produce a sound, but it helps you to control devices that do make sounds, and in that capacity, it is very good. I have owned a used EV-5 for over six years and have used it live and in the studio extensively, with a number of devices from rackmounted multi-fx units to stompboxes. I am currently using it to control the low pass filter on an xotic Robotalk pedal. The EV-5 is deceptively sturdy, has a decent feel to it, and always functions flawlessly for me. I have tried other expression pedals (Don't use this for volume), including the much more expensive Roland EV7, and they just don't cut the mustard.
Features
Straight up, no BS. A pedal and a pot. The pot may or may not be used, depending on the application. The pot is mounted so that the top is flush with the side of the pedal which keeps it from being broken or accidentally turned.
Ease of Use
Very easy to use. Plug and play.
Quality
Even though it's a light plastic pedal, this thing can take some serious abuse. My only beef is that the cord is attached to the pedal. Some people might consider this a feature, but I prefer to be able to disconnect the cable.
Value
This is hard to rate. The pedal does what it's made to do and does it well. That being said, I think it costs a little too much for a plastic unit.
The Wow Factor
Having tried a bunch of different expression pedals, I always come back to the EV-5. It's so good, I'm getting another.
62 of 64 people (97%) people found this review helpful. Did you?
Thanks for your opinion!
---
Submitted May 28, 2006 by a customer from gmx.ch
"If you're easily satisfied and like it cheap, this is for you. All others - don't buy this.&quot
I wish there was an alternative to the grossly overpriced EV-7 but it seems there is none. F...
Sound
It doesn't cut off the sound smoothly at the low end. At minimal volumes the sound tends to get "brittle".
Features
The minimum volume switch works just fine. No other features available
Ease of Use
Pedal travel is much too short for volume control. I opened it to see what I could do to remedy this. But the problem is in the design and unless you are an experienced home constructor there's no chance you can alter the mechanic towards longer pedal travel. What really bugs me: THERE IS NO WAY THEY DIDN'T NOTICE THIS WHEN THEY CONSTRUCTED IT.
Quality
It's cheap lightweight plastic. You better treat it gently. No functional problems yet.
Value
Well, it don't cost much and that's what you get. Still too expensive, if you ask me.
Manufacturer Support
No need for support yet.
The Wow Factor
I can live with it, even did live gigs with it, but it wasn't a pleasure.
Musical Background:
Active Musician
Musical Style:
Rock, Blues, Country
20 of 35 people (57%) people found this review helpful. Did you?
Thanks for your opinion!