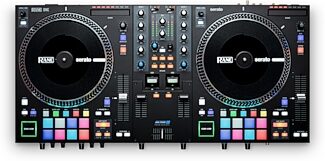 Mix in and out of tunes with ease! The Rane ONE features 7.2" motorized platters, a Mag Four crossfader, and its own loop section for endless possibilities.
Overall User Ratings
(based on 2 ratings)
Submitted April 15, 2022 by Al Taylor in Roosevelt, NY
"The Awakening&quot
Verified Customer
zZounds has verified that this reviewer made a purchase from us.
This review has been selected by our experts as particularly helpful.
So, I am a turntable whisper... One that has been spinning for mostly all of my life. From Kenwood straight arms of the 80's until I was finally able to get me a pair of 1200's at the age of 12. I discovered that with belt driven turntables - if you get a rubber band that was about an inch or 2 smaller than the belt, you would gain the necessary torque to cut and scratch without the lag. You would lose much accuracy with the pitch control, actually having to put the pitch all the way up to achieve normal record speed. I only added that tidbit to let you know that I have been around the game for years. I have 8 1200's and recently sold my Pioneer turntables due to my loyalty to the Technics brand. I received my Rane Ones yesterday from zZounds. I almost called in sick today from work. I found myself cutting and mixing all night long, well into the morning. Why do I love them already? First, I am one of those guys that keeps everything in coffins. I find that a carry bag/backpack would actually work better for these. Being able to walk into a venue with a backpack and pull out a worthy device adds a great feeling of portablility. Plug and play in its true form. As a former battle DJ, the spacing of 2 1200's and a mixer on a table next to each other outside of a coffin provide that extra split second to be able to slice and dice without having any obstructions. They nailed it with the Rane One. I feel right at home with the size and spacing of the platters and fader. I thought I would dislike the strip at the top as opposed to my natural lifting and placing of a needle. It took me a second to get used to not moving a needle upon changing songs. I got over it quick. It works well - almost a cheat code if you know music and have producing skills. The hit point selection and software effects work as advertised. All of the bells and whistles of a controller are in tact and are great in quality. Buttons and sliders are smooth and well done. The real meat and potatoes are the ability to do what you do if you love turntables and can you rock a crowd with these? The answer is a resounding YES! I would have actually liked for them to remove some of the buttons and knobs so I can have some space to add my own flair to the device. I would love to put some snazzy stickers and such on it to make more of my own. There are many things on it that I can't really see myself using. I feel like this device was created with the turntablist in mind but added options on it to appeal to today's DJ (Digital Jerks), and truth be told, they are more likely to shy away from this device due to other options that have built in effects and stationary platters. Most of today's youth won't appreciate why this device is game changing, meanwhile, old heads like me won't really appreciate the digital bells and whistles on it because of the purity of the sport and what's actually achievable with the ability to create manually due to the size and functionality of what the machine captures. I can only see them making a slightly bigger device (something in between a 7 inch and a 12 inch) and stripping some of the unnecessary options out and really giving turntablist a true device for battling and cutting it up. This is the turning point for the sport of DJing right now. The same way Technics 1200's change the game in the 70's - This is ground Zero. In 20 years, this device will be in the Hall of Fame.
Sound
The sound quality is what you make it. There is a mechanical noise that comes from the device when you start the platter. You hear the device functioning, as you should would anything mechanical.
Features
I feel like they did a good job with the quality of the build. The platters are 7 inches and weigh just as much as a Technics platter of 12 inches. You feel the quality of platter when you unbox and I see endless customizing options.
Ease of Use
Plug and play baby. Hook it to your speakers and go. Hook it to your mixer and go.
Quality
I feel like it will last me a while. I take care of all of my children!!
Value
Judging by the cost of 2 Rane 12's and the mixer for it, I would say its a great deal. If Technics made a competitor to this, Only at that point would I consider moving onward.
Manufacturer Support
Rane is Rane. I have never had any issues with them. (knock on wood)
The Wow Factor
Having the ability to have such a portable device that gives me full ability to showcase my talent without boundaries is a dream come true. I was hesitant to start doing mobile gigs due to my hatred for controllers and loyalty to "wheels". Lugging around 1200's and mixer in a coffin and then bringing it back home a setting it back up became too much of a headache. That feeling is now gone.
Musical Background:
Turntable whisperer, Producer, Rapper, Actor, Handsome!
Musical Style:
I am Hip Hop. I can do other stuff as well, but my foundation is Hip Hop.
26 of 26 people (100%) people found this review helpful. Did you?
Thanks for your opinion!
---
Submitted May 31, 2021 by a customer from gmail.com
"Rane one&quot
Verified Customer
zZounds has verified that this reviewer made a purchase from us.
This is all I'm going to say # 1 the controller is nice just like the rane turntables rane 72 I have thanks rane well built
11 of 11 people (100%) people found this review helpful. Did you?
Thanks for your opinion!