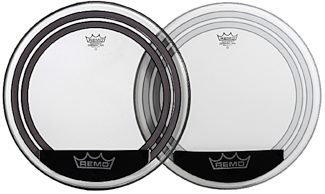 Power up your bass drum sound with Remo's Powersonic bass drumhead, which features snap-on dampening technology for customizable muffling, feel, and sustain.
Overall User Ratings
(based on 7 ratings)
Submitted June 2, 2008 by a customer from hydeawayonline.com
"Good Stuff, I would buy it again. I have a very low cheesy recording at www.myspace.com/hydeaway We recorded live in our 10x10 s&quot
I would Rank it a 10, but I have not tested the full durabillity out yet. I will let you know in a few months.
Sound
Love the sound. Nice low snappy response. I am using a 22inch along with a Evans r.e-mad Resonating head. On a Pearl Export series standard shell. I have had other bands comment from there practice rooms that it sounds like I have the bass drum mic'd up. I was looking to buy a Evens ec-2, but they were out of them. So I tried this head. Great stuff I am sold. Now durabillity will be the factor.
Features
The sound pad that cones with the head does not stay on thru a three hour set. I find my self snaping the pad back on about 6 or 7 times thru the show. Sounds great even with the pad off though.
Ease of Use
Same as all the other heads.
Quality
Had this head for about 3 months. Holding up so far. I usually get 6 months out of the high end heads.(heavy foot) We shall see.
Value
Not so bad. Like I said so far so good. If I get 3 more months out of it. I'll say its a good price.
Manufacturer Support
Can not say yet.
The Wow Factor
Not sure about that. It looks good, and I actually am the only one looking at it. Soooo I like it.
Musical Background:
23 years as a basher.....Love the stress relief.
Musical Style:
Hard Rock, perform covers also from the 60's-todays rock with my own twists.
7 of 8 people (88%) people found this review helpful. Did you?
Thanks for your opinion!
---
Submitted January 27, 2010 by a customer from verizon.net
"Terrible head worse design&quot
Verified Customer
zZounds has verified that this reviewer made a purchase from us.
It just doesnt cut it
Sound
I needed a new bass head and chose this becauise I thought it was like the Aquarian super 2 but its not, it just doesnt sound as good as that head, This head wrinkles very easy and to tune it right which is low..its impossible to get those wrinkles out, the foam on the inside also seems to peel away and the snap pad on the front does not stay put, the concept was good and its an ok head but the aquarian super 2 is far far better, just to many gimmicks on this head with the snap pad, double foam rings etc...and its very heard to get the head to seat right without wrinkles because of everything they put on it...I will be going back to the super 2..I love Remo heads but this head needs to go back to development for some tweaks...
Features
Acually? there are to many on this head! Its a drum head, the concept was good but it just doesnt work well
Ease of Use
its a drum head...hard to tune and constant wrinkles
Quality
head is built well but the foam rings come off and the snap pad is just awefull
Value
In my opinion this is not a good value, thsi head is not good
Manufacturer Support
Not dealt with
The Wow Factor
Get the aquarian super 2, you dont want this head
Musical Background:
Active musician
Musical Style:
Rock blues pop
4 of 7 people (57%) people found this review helpful. Did you?
Thanks for your opinion!