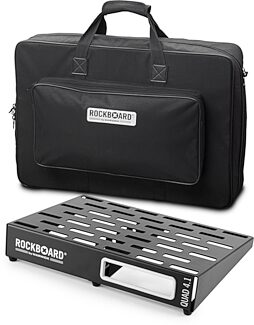 This RockBoard QUAD 4.1 pedalboard has all you need -- plenty of space, a power supply slot, included velcro tape, and a gig bag to take it on the road.
$194.50
---
No Credit Check

No Credit Check
Overall User Ratings
(based on 1 ratings)
Submitted September 16, 2020 by Allan B in Tempe, AZ
"Great Board&quot
Verified Customer
zZounds has verified that this reviewer made a purchase from us.
This review has been selected by our experts as particularly helpful.
Simple and easy to set up with several I/O options available.
Sound
Well it's a pedalboard so it only sounds as good as what you put on it
Features
I really like the different Mod options that you can put in here. I went for the Mod2 with the 4TRS and MIDI and also have the Mod1 on another board. The access slots are positioned well and have plenty of room for most cables and still enough space for Velcro or Dual Lock. You can get most MIDI cables through. I've tried homemade Neurtik, Rockboard, Hosa, and they all fit. Only the OneControl cables were too big. Underneath there's plenty of room for most large power supplies even with a Mod installed. I've put Truetone CS7, Voodoo 4x4 and Strymon Zuma underneath and they all fit without touching the floor and you don't have to but them right up against the top either. I've also got a small Source Audio Neuro Hub under there. If you are OCD with cable management there's plenty of space to wire things up and route without overlapping power and audio.
Ease of Use
Getting the board set up is pretty straightforward. The only slight pain is the Mods don't come with true self tapping screws just metal screws. You have to muscle them in but it's not a huge deal. I knew this beforehand so I was expecting a little trouble. The rest is Pedalboard 101. Wipe it down with rubbing alcohol before you apply the Velcro and let it sit and place your pedals. Pedalplayground dot com is a great way to figure out pedal placement options.
Quality
The overall build quality is great. These are light as a feather but pretty sturdy thanks to the middle spine. I've take the spine out a few times for wiring and it's a breeze. Very well put together. The carry bag is decent as well. I like the large zipper pocket on the front, you can cram a lot of stuff in there. The bag is also plenty deep so most high profile pedals will fit no problem. I do have a PSA though and since zZounds doesn't sell these particular accessories I don't feel bad about saying it here. Don't bother with "The Tray" unless you are getting the Rockboard PSU (which I don't recommend unless you have all 100ma pedals). It serves no purpose for larger PSU and doesn't properly fit with most of them. I learned this the hard way on my other Rockboard. Also if you are planning on using a Mod, the IEC mains cable from Rockboard is VERY short and with a third party PSU severely limits your placement options. A Tripplite cable can be had from a major online retailer with the same name as a forresty region of the earth for about the same price and has a much more usable 2 foot length cable that works perfect.
Value
If you are doing the whole Mod thing then this board is a decent value compared to other enclosed style boards with I/O options like Temple or Emerson. On it's own it may be a bit more expensive than PT inch for inch but I just don't like that slat style. I prefer to have the sides enclosed to hide my messy cable management and having a single I/O interface that has everything I need vs buying 2 or 3 to pop in here and there is a much better proposal to me. I think it's well worth the price.
Manufacturer Support
I haven't had to contact Rockboard but they have a nice website with engineering diagrams of the boards so any questions you have about them should be answered there.
The Wow Factor
Overall I really like this board. I've had several boards and I've not really had any complaints about Rockboard. I like the size options and when you add the Mod option it is a really good value for a high quality board with plenty of space above and below. Just be wary of some of their accessories.
Musical Background:
Playing over 40 years and still plunking around in bands
Musical Style:
Rock, Prog, Jazz, Classic Rock
1 of 1 people (100%) people found this review helpful. Did you?
Thanks for your opinion!