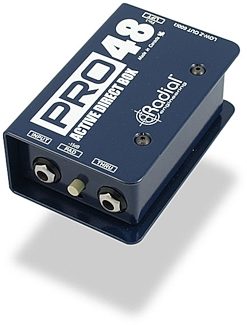 Perfect for the working musician, the Radial Pro48 is an active DI unit with minimal distortion, ultra-high headroom and an affordable price.
$129.99
---
No Credit Check

No Credit Check
Overall User Ratings
(based on 0 ratings)
Submitted November 15, 2010
"Good find, it sounds big and detailed on acoustic guitar.&quot
Verified Customer
zZounds has verified that this reviewer made a purchase from us.
I give it a 9 because who knows, there might be something else out there that is better that I haven't tried. I expect this product to last a very, very long time. I'll buy more of this or maybe the more expensive model, the J48, In fact, unless something changes, I might only buy this DI from now on.
Sound
I bought both a Radial passive DI and an active DI at the same time. The passive one has a Jensen transformer, model JDI; and the active model was the Pro48. At home, the active one sound more transparent in the mids than the passive one with the Jensen transformer. On the stage on my first use, the active one Pro48 was to me obviously clearer and pretty much a revelation. Like wow, what do we have here. On the other hand, the passive model (which cost about $200 versus about $140 for the active one) was good but not "special". I think I'll use the passive one if I get an input thats too hot. And, in the future, I'm going to only buy the Pro48 or maybe the more expensive active model, the J48, that is supposed to have more features but the same sound. My first use of the Pro48 was on an acoustic guitar. The Pro48 sounded better than the guitarists preamp rig (a higher priced floor preamp specifically for acoustic guitars). The guitarist's rig sucked life from the sound when compared to plugging straight into the Pro48. So he plugged straight in and sounded big and full and detailed. Really a nice sound considering its from a DI on a stage. So for sound, I'm giving it a 10 but maybe there is something out there that is better but I haven't heard it. of course, I haven't heard the really pricey DI's. On the other hand, I own a couple of focusrite ISA428's that have guitar inputs with Lundhal transformers (that I've used in a studio) but again to me, the ISA428's DI sound good but not "special" in terms of transparency and detail. I would definitely use the Pro48 and would not even consider the ISA428 on acoustic steel string guitar; even in a studio.
Features
Has pad and ground lift but no high pass filter. Pretty basic.
Ease of Use
Just have to be careful plugging in and out cause there is a loud pop. No loud pop on the passive one.
Quality
Heavy steel. Road worthy.
Manufacturer Support
Haven't use it. Good videos on Youtube help me select this product.
Musical Background:
part time, recording engineer
8 of 8 people (100%) people found this review helpful. Did you?
Thanks for your opinion!