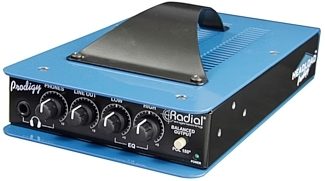 Want to drive your amp harder for optimal tone? This attenuator gives 50% and silent load options for lowering stage volume, or ditching the cab altogether.
$599.99
---
No Credit Check

No Credit Check
Overall User Ratings
(based on 2 ratings)
Submitted March 30, 2019 by Jason G in The Villages, FL
"Excellent Attenuator and much more!&quot
Verified Customer
zZounds has verified that this reviewer made a purchase from us.
I had been trying to find something that would allow me to play through a traditional tube amp and pedal board, but with headphones. Frequently I have to use phones, so I was stuck with digital amps with a phone out, not able to use my favorite amp, which I hadn't bought because of that need. I thought attenuators came in amps most of the time, expensive amps I cannot afford. I did see a device which is a 400$ cab clone with a phone jack, but saw negative reviews for it. I saw that company also put phone jacks in several of their amps, and they only make tube amps. But I could not afford the legendary name. I then asked a sales rep at the largest sweetest online store what might work, and he told me my only choice was from OX, and that unit costs 1200$. I had a couple of great experiences with zZounds so I asked, having lost hope if there was a way. zZounds responded immediately to my chat session question suggesting the Prodigy. I ordered it right away because of the 12 install plan. You can read all the specs but it's multi level attenuator, up to a 100 watt amp, eq, and a PHONES amp with dedicated volume and eq just for the phones. I bought a brand new Fender Princeton at the same time. I just put a cable between the speaker out and the "from amp" jack on the prodigy. So I hear the guitar, pedal board, amp, just with the phone jack and good audia technica phones. It's fantastic, it doesn't suck tone, at all, or add noise, the tone is the same, just in your ears! And at 130 in the morning no one knows. Sounds great through the Princeton, my favorite amp ever. Clean, low, crunchy, metal, it preserves it all perfectly. If you can't play your favorite amp at home, you will LOVE this great tool! And in a gig you can attenuate the amp before it goes to cabinets or the sound board. Amazing life saver, worth every penny! I am so happy with radial I ordered their abc box today.
Musical Background:
20 yrs all kinds of music
7 of 7 people (100%) people found this review helpful. Did you?
Thanks for your opinion!
---
Submitted January 3, 2020 by Paul S in Weirton, WV
"Everything you Need ( for the home studio, sort of)&quot
Verified Customer
zZounds has verified that this reviewer made a purchase from us.
This little wonder is a great, solid item. I love being able to do silent recording when my wife is passed out in the bedroom, or maybe keep those pesky neighbors from burning my house down when I get some inspiration at 1 am.Cab emulation is solid, some really great DI. Being able to plug headphones in makes this invaluable if you're in a siutation like mine.Additionally, the unit is fairly compact, but built like a nice hunk of steel. Just keep in mind, this is for 8 ohm resistances. They claim you can try it with other resistances, but it's not something I'd experiment with too much, considering the somewhat hefty price.
Musical Background:
15 Years of jamming/recording at home, playing with a couple small bands, and irritating my neighbors.
2 of 2 people (100%) people found this review helpful. Did you?
Thanks for your opinion!