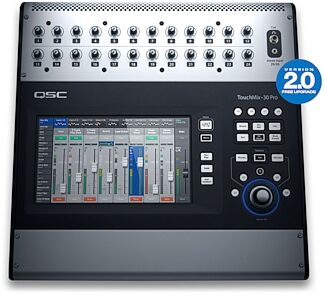 The QSC TouchMix goes Pro with 24 mic preamps, a 10" touchscreen, 32x32 DAW I/O and 6 stereo FX processors for your venue install or portable live sound rig.
Overall User Ratings
(based on 2 ratings)
Submitted May 10, 2017 by Chuck H in McRae-Helena, GA
"What's Not To Like?&quot
Verified Customer
zZounds has verified that this reviewer made a purchase from us.
This review has been selected by our experts as particularly helpful.
I've used this board on a few gigs now, and although I'm still learning to get around it, it's proven to be all it's advertised to be. The feedback elimination function is great to have and easy to use. Layout is simple. Effects are very useful. Screen is visible and maneuverable. I've tracked three shows now with an external SSD hard-drive (Glyph) with no problems at all. I take the SSD drive back to my studio, plug into my Mac Pro and in just a few seconds I've got the tracks loaded. I went ahead & purchased the SKB waterproof case for mine, as I hope to get many years of use out of this board. So far, no complaints at all.
Sound
The preamps seem to have a good quality & sound. Effects are great, with 6-channels of effects with delays, reverbs, or other useful goodies. Output signal seems solid. Nice to have a dedicated talkback mic input. Easy to view the parameters of each channel via the all-inclusive full-screen page, where you have all the parameters of that channel right in front of you.
Features
Most useful features to me are the USB direct plug-in recording-to-SSD drive, tablet / iPad control, overall channel pages, and feedback eliminator. Often my gigs are on small stages, and feedback can be an issue. I also like to get "out front" when sound-checking. Recording to an external USB SSD drive is a breeze.
Ease of Use
If you're not familiar with mixing boards, you will have a slight learning curve. If you are familiar with mixing boards, you should have no problem. I've had some feedback issues with a couple of channels when the 'compressor' was engaged, but I'm still learning the settings and compressor response with select mics & inputs.
Quality
The product seems solidly built. Because of the nature of the product, I would think that the internal components should last a long time.
Value
For what this board offers, it's definitely worth the price.
Manufacturer Support
I've had no need for factory support.
Musical Background:
Performer, Studio Owner, Instructor, All Around Audio Guru
Musical Style:
Rock, Country, Christian, Jazz, Blues, Songwriter
22 of 23 people (96%) people found this review helpful. Did you?
Thanks for your opinion!
---
Submitted January 18, 2017 by Joseph Bates in Kingston, PA
"3 months with the pro 30&quot
Verified Customer
zZounds has verified that this reviewer made a purchase from us.
After 2 firmware revisions we are starting to get the kinks out. This one of the best digital mixers I have used at this size and price point. Users of Apple products will have no problem. Their are some issues with Android, I have tested different versions of Android and here is the results; the app works with 4.0-5.0.1and 7.0 it will not work with 6.0-6.0.1 and depending on type some problems with 5.0.1+. This after weeks with QSC tech. They are great guys to work with.
Sound
Great sounding board.
Features
All the features are great.
Ease of Use
With the wizards for gain, fx and feedback it's a snap.
Quality
Being solely touchscreen and very little moving parts I believe it will last some time.
Value
It is definitely worth the price and with 12 no interest payments it's a no brainer.
Manufacturer Support
I have dealt with Fred in engineering for some weeks resolving some issues with certain Android os's. The best people I have dealt with. Will buy more QSC products just because of the great support.
The Wow Factor
Its power in a diminutive size desk. You will have people saying their is no way that kind of sound is coming from that little mixers.
Musical Background:
A pro since 1978 (Pocono Sound)
Musical Style:
All types but lean toward symphonic metal ie.. Night Wish.
16 of 17 people (94%) people found this review helpful. Did you?
Thanks for your opinion!