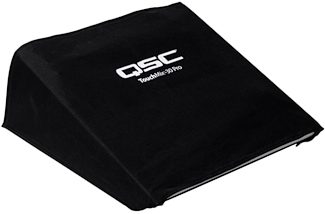 Protect your QSC TouchMix-30 Pro when not in use by slipping this custom-sized fabric cover on it. The cover shields your mixer from dust, spills and more!
Overall User Ratings
(based on 1 ratings)
Submitted May 9, 2019 by Marsden B in Falls Church, VT
"Really QSC???????&quot
Verified Customer
zZounds has verified that this reviewer made a purchase from us.
First, let me say I love QSC, this mixer has been awesome and I haven't even begun to scratch the surface. But if I wanted to scratch the surface, I definitely could through this thing. First, this "cover" should not be $21.00. As classy a company as you are, and as expensive as this mixer is, this thing should have been included with the mixer in the first place. Dont get me wrong, it will protect most of the mixer from dust. Most, because the back is completely open. I mean the design makes sense, it lets you leave every thing plugged up and still able to put on the cover. I think they could have made the cover more substantial with maybe a part on the back that you could zip off if you wanted to leave the cables on. The problem with this design is it feels cheap. And its the first thing I have bought from QSC or even seen from QSC that feels cheap. And if youre going to make a cheap cover you should just give it a way with the $2000 dollar mixer. Some brilliant guy who probably got a promotion was like hey why are we just giving them that, take it out and sell it to them for TWENTY ONE FRIKKIN DOLLARS!..really people? Dude was probably joking and some other guy was like no, no that could work. Well, it worked. I bought it. But I regret it. Not because it wont do the job, because it will. But I feel nickel and dimed by a company I bought a 2k mixer from. The tablet stand being sold separately on the mixer was bad enough, the tote bag is real well designed and seems worth the $100.00 but, QSC if I'm honest, this was too far. And it makes me wonder if I'm making the right decision investing in your company. This cover and the tablet stand should be packed in the box. Its a real bad look opening this box to find fabric that feels like little more than a 2 ply version of those black thin cloth bags you sometimes find your new electronics packed in. Now, I'm not saying dont buy this per se. I'm just saying that you will most likely come away with the same impression I did so I'm not going to hype this thing. Its a dust cover, it catches some of the dust. not on the back...and it feels cheap as hell...and if youre like me and only expect nothing but quality from QSC I suspect your reaction will be much the same...really QSC? for 21 bucks? This is what I get?
Musical Background:
lawyer getting back into music after a looong time hiatus
Musical Style:
Reggae, electronic
1 of 1 people (100%) people found this review helpful. Did you?
Thanks for your opinion!