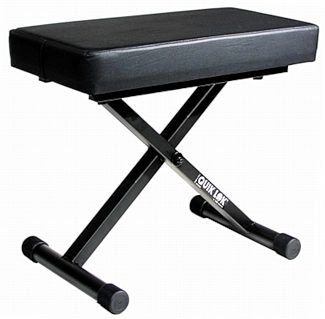 Bench with large seat cushion and 4-position height-adjustment.
Overall User Ratings
(based on 11 ratings)
Submitted December 30, 2008 by a customer from hotmail.com
QuikLok BX718 Bench Customer Review
If you fall to the ground because it breaks, it's of no use so overall I have to give it the worse rating.
Ease of Use
Requires no assembly. Was easy to adjust seat height. Probably would take 2-3 minutes to setup this portable bench to the desired height. I say 2-3 minutes because to have to securely tighten 4 pins into place.
Quality
I brought the BX-18 model, which is supposed to hold up to 300lbs. I don't weigh nearly that amount. Anyway, I used the Quik-Lok BX-718 bench for 4hrs and found myself crashing to the floor. It broke that easily. The retailer said they have not had many problems with this bench, but I am skeptical although they are shipping me a new one. Problem is the study medal pins that mainstain the selected height sit in a plastic cylinder. The plastic cylinder gave way and the pin is now embedded in a slanted position in the defective plastic piece. They advertise about the heavy duty metal but your weight is supported by heavy duty plastic. Why isn't the pin sitting in a metal piece instead of plastic?
15 of 15 people (100%) people found this review helpful. Did you?
Thanks for your opinion!
---
Submitted March 5, 2009 by a customer from hotmail.it
QuikLok BX718 Bench Customer Review
Quality
It isn't safe, I crashed down twice, I weigh 200 lbs, and the product is supposed to support 300 lbs. The screws don't tighten the pins strongly enough in their position, so, by the natural movements of the user, slowly the pins slip out of the whole were they should stay in order to mantain the height of the seat. I turn around a little bit from one working area to the other, at 90 degrees, but this should be allowed on a seat.
Musical Background:
Student
6 of 6 people (100%) people found this review helpful. Did you?
Thanks for your opinion!