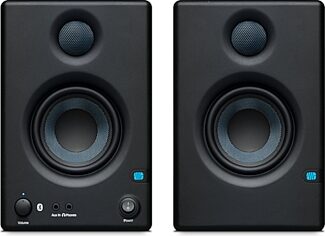 PreSonus added Bluetooth to their Eris E3.5 studio monitors! Ideal for music lovers and content creators, these deceptively small speakers deliver big sound.
Overall User Ratings
(based on 2 ratings)
Submitted October 19, 2020 by L H
"A bluetooth speaker with sound so much better than you expect!&quot
Verified Customer
zZounds has verified that this reviewer made a purchase from us.
I DJ house/techno/trance music and use my JBL 305's most of the time when recording a mix. I was looking for a bluetooth speaker to take with me around the house and patio to listen to for entertainment purposes. Listened to several of the consumer BT speakers/boomboxes at stores around my area but none of the brands I listened too excited me. The ones that sounded somewhat decent were well over $200. I guess I've been spoiled by my JBL's.I saw these on zzounds and thought I'd take a chance. Hooked them up and was blown away by the sound these things put out. They are super clear and pump out a lot of base for a 3.5" speaker. What especially excited me was when I turned them down low late at night - was listening to some Jazz - the clarity of the songs even at a very low volumes was, IMO, excellent. To confirm what I was hearing, I started going through some of my old mixes that have a lot of complicated melodies which I thought could give these little speakers a challenge, and played them at a very low volume. Same great sound quality. I should note that while they are considered monitors and are very flat, when you tweak the EQ setting in the back and your EQ from your source, they can become very good hi-fi speakers. They are also small enough to carry around quickly and have a 3.5mm to RCA input cord that is included. It's the bluetooth hookup though which makes these so good and they are IMO better than any of the consumer BT speakers I've listened to.
9 of 11 people (82%) people found this review helpful. Did you?
Thanks for your opinion!
---
Submitted April 2, 2021 by a customer from gmail.com
"Above Par Performance w/ Bluetooth&quot
Verified Customer
zZounds has verified that this reviewer made a purchase from us.
I use an Antelope Audio Discrete Synergy 4 interface and usually monitor through two sets of speakers; 5-inch Focal's and 5" JBL el cheapo models (they sound great for the dough,though). I needed something smaller and a little closer to me on my my recording desk,and since I couldn't afford Genelec's, I went for the PreSonus' 3.5-inch w/Bluetooth,thinking if they were awful,I would have a pair of speakers for the back patio with bluetooth. I wasn't too impressed,at first;I'm always the skeptic before break in period kicks in,so it was way cool when they created me a very 'useable' sweet spot within a couple days (at about half volume or less on the speakers),everything else gain matched along the way. Overall, I rate this 3.5" speaker system alone a 3.5 on a 5 scale. Add in the Bluetooth,the fact they include all the accessories cables that you will need,all the needed i/o to add other devices via analog,small iso pads,a copy of Studio One....you get the pic. Nearly a 5,value-wise. Too good to pass up. We got a second set to use with our Tascam 12 recording mixer doo-hickey thang. Flippity-flap,man! We didn't need too,but since we had a bit of extra dough,we added the PreSonus Eris sub that matched the 3.5",and we now have one hella portable studio that is easy to transport to here, and there,.... and back,again. We hope they last awhile but so far so very good. zZounds did us solid,as usual.
2 of 3 people (67%) people found this review helpful. Did you?
Thanks for your opinion!