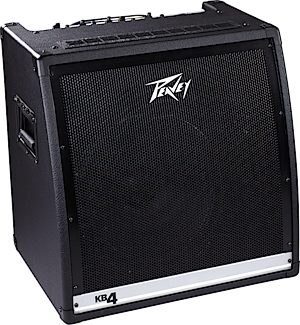 Use this 75-watt amp from Peavey for your keyboard, or turn it into a personal PA with four inputs for voice and other instruments.
$599.99
---
No Credit Check

No Credit Check
Overall User Ratings
(based on 37 ratings)
Submitted April 25, 2017 by Martin J in WILSON, NC
"KB4 does the job, but is a disappointment after using the KB300 for many years&quot
Verified Customer
zZounds has verified that this reviewer made a purchase from us.
My KB300 died after over 15 years. It had a Black Widow, great horn and awesome power. Of course, I went right back to Peavey, thinking the KB4 would be even better. Well, this power is not even close to the KB300, the bass does not hit the same, and the highs do not cut. Let's face it, 75 watts don't leave much room for voice and instrument. It does very well for Karaoke and digital music. It is pretty good for bass in a small room. But when I use my Motiff Grand Piano, I want my highs to "ting" and I want to here the simulated vibration of the low piano notes. I don't get it from the out of the box KB4. However, if you use the powered speaker output add a speaker with a great horn, it turns into a very good sound system with 25 more watts. It is still not the KB300, and who really wants to carry around an extra speaker..
Musical Background:
25 years Keyboard.
Musical Style:
Blue, R & B, Gospel, Country
10 of 10 people (100%) people found this review helpful. Did you?
Thanks for your opinion!
---
Submitted February 12, 2004 by a customer from hotmail.com
"KB-4 Rocks&quot
Verified Customer
zZounds has verified that this reviewer made a purchase from us.
I love this amp. It's considerably better than my previous amp (Roland KC-500) for amplifying drums, and unlike the Roland it never clips.
Sound
I use it to as a stage amp for my V-Clubs to play smallish clubs (300 or fewer people). I love the sound I get from it, and have never over-driven it, even at max volume. Use it about once a week for rehearsals and run the bass, electronic drums and lead guitar through it, as well.
Features
I like the input options, and the "wheelie bar" and casters. I'd like it to have one more input, and the casters should be a little larger diameter to make it easier to move across a rug...
Value
I got it for under 400 dollars. Well worth it!
Manufacturer Support
I haven't needed support.
The Wow Factor
It has a great look to it, I think.
Musical Style:
Any - play a lot of new country and classic rock...
58 of 62 people (94%) people found this review helpful. Did you?
Thanks for your opinion!
---
Submitted April 14, 2010
"Another quality amplifier from Peavey&quot
This review has been selected by our experts as particularly helpful.
10% more volume and some quality reverbs is all I could ask for, but you can achieve this with some minor additions - don't forget you can add an external speaker! This amp costs an amazing £270(ish)and far exceedes the quality of its competitors at this price range.
Sound
EXCELLENT sound quality with nearly no noise. The KB4 emits powerful, ground shaking basses and super crisp trebles, with everything in between. The DDT filter is a great reassurance, limiting heavy distortion of the speaker. The green "power" LED changes to red when the signal is clipping, but with careful EQ-ing this is not so much of a problem, although, sometimes the red light appears even at mid volumes. I use a microKORG XL and a Yamaha keyboard and, to suit my bands style, I need them both to be "high in the mix" when live, I tend to use the amp just before the brink of clipping and at this volume it is loud enough. I recommend using an amp stand or putting the KB4 on a (strong!) table to allow the sound to cut through best and if you are using the amp at anything above a medium size gig you need to use the line outputs to connect the amp to the PA, as, I suppose, with most amps.
Features
The casters and handles are excellent, making this seemingly huge amp very easy to transport. I have used the amp for a light band practice PA, and the Low-z mic input is excellent in these situations. The stereo line outputs are very useful for recording and connecting to a proper PA, and the EQs are versatile and good quality. It really would be nice to have some reverb for vintage synths and my(irritatingly lacking in the reverb department)microKORG XL etc, but I suppose no effects are better than cheap effects(which are just other things to go wrong)so I'm glad Peavey didn't just through some in.
Ease of Use
Completely straightforward to use - you can use it as soon as you get it out of the box.
Quality
Rugged in design can easily withstand the hazards a live gig creates. Obviously, don't drag the KB4 across car parks if you want the amp to stay looking good. Dials move positively and smoothly.
Value
You can get this amp for £270-ish, and the amp is far better than its competitors at this price range.
Manufacturer Support
For myself and other Peavey customers that I know of, Peavey support is greatly responsive and helpful. Though they still haven't replied to (only) one of my emails...
The Wow Factor
The KB4 and KB5 are the best looking keyboard amps I've seen so far -if you get one, just slide the shopping trolley style handle away when in use!
31 of 31 people (100%) people found this review helpful. Did you?
Thanks for your opinion!