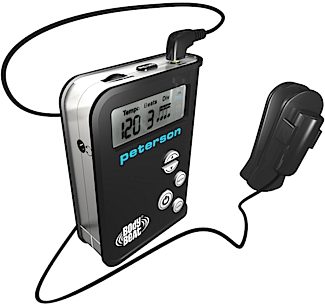 Come on and feel the vibrations... of the music as you play.
Overall User Ratings
(based on 3 ratings)
Submitted November 18, 2010 by a customer from gmail.com
"The best and only metronome I can or will use... If anyone has a better idea, let me know.&quot
I will just say this first... I have a real hard time trying to practice to a metronome. This is compounded by the fact that I don't have a natural rhythm to start with. I play guitar and every "click" or sound based metronome I have ever tried quickly gets drowned out by the sound of my instrument. I can't tell if I am on, ahead or behind the beat. I have used drum machines and they work ok, but it soon became a hassle to set up different rhythm patterns for practicing triplets or 16th notes. I also had to use them at a louder volume than my family wanted to tolerate to use them effectively anyway. Yet every guitarist I would want to learn from stated that the one of the best things they did to improve their playing was practicing to a metronome. I researched how to do this and no one seemed to answer the question "HOW, I can't even hear it once I start playing?!". Then I found the Peterson Body Beat at a local music store. It seemed pricey at the time but I bought it. The pulse bulb works for me!!! I can concentrate on what I am playing and not on trying to follow an audio beat. I can feel the rhythm and play to it. It doesn't make a difference if I am practicing with headphones or with an amp, I feel the beat either way. My timing has improved because my fingers stopped trying to out race themselves. They always seem to want to speed up, faster and faster. Or on difficult parts I would lag behind. Having the pulse provides a discipline to keep them at pace! Isn't that what playing to a metronome is supposed to accomplish? I hope review this is helpful to anyone who has trouble playing to a metronome. I believe that the Peterson Body Beat is worth the price because it solves a very REAL problem and it solves it effectively. The tempo and subdivision are easy to set quickly, much easier than with any drum machine I have used. If this product did not exist I would not use a metronome at all and I would be forced into always having lame timing skills. I wholeheartedly recommend this product to anyone who desires a metronome they can really practice with. It is the only metronome I can work with.
Sound
I didn't but this for it's sound quality. But it's sound is just as good as any other metronome.
Features
Belt clip for both the main unit and pulse bulb. Easy to use buttons. Volume control for sound level. It will also produce a reference A440 tuning pitch. Easy to read LCD display.
Ease of Use
Much easier to set the pattern than any drum machine I have ever used. As far as metronomes go... The pulse works better than any sound based unit I have ever tried (and I have tried a lot of them).
Quality
Seems well made, but I would not want to have it drop to the floor. I wouldn't want my guitar to drop to the floor either, that's why I use strap locks...
Value
It solves a MAJOR problem I have with practicing to metronomes. Read below. Worth every penny that I paid for it.
Manufacturer Support
Moot- because I never needed to get support with it.
The Wow Factor
It is not about how it looks, it's about that it works!
Musical Background:
Hobbyist with unrealistic dreams!
Musical Style:
Prgressive Hard Rock, Neo-classical
12 of 13 people (92%) people found this review helpful. Did you?
Thanks for your opinion!
---
Submitted July 7, 2009 by a customer from gmail.com
Peterson BB1 BodyBeat Customer Review
Verified Customer
zZounds has verified that this reviewer made a purchase from us.
Features
The features were nice and I was hoping that it worked better than it does. As a drummer, I was looking forward to having the metronome usable on triplets and dotted eight notes, etc. Alas, I found that the vibrating clip was not easy to feel with enough precision. I tried a bunch of places but none of them seemed to do it for me.
Ease of Use
It was easy enough to use. Perfect 10? nahhh, but no real big issues.
Quality
Typical of most stuff made in Chnia (as is this). Ok, but not great. But it's not the cheap plastic look that made me send it back, it was the fact that it did NOT keep perfect time. Set at 60 bpm, Within a few minutes it was a quarter+ second off. I'm sorry, but 60 bpm needs to be 60 not 59.9. I tested it against a stopwatch and my Roland V-drum's built in timer. The Roland set and the stopwatch were perfect with each other, the Person Body Beat was not. Guess who got voted off the island.
Value
I think it is overpriced for what you get.
The Wow Factor
I though it was a great idea, but it just didn't work out to be as good as I had hoped.
Musical Background:
Hobbyist
Musical Style:
Rock & blues, drumming
18 of 20 people (90%) people found this review helpful. Did you?
Thanks for your opinion!
---
Submitted December 14, 2009 by a customer from cs-kc.com
"Not for me.&quot
Verified Customer
zZounds has verified that this reviewer made a purchase from us.
I would be surprised if Peterson continues to sell this product.
Sound
Don't waste your time and money if you are playing at any even moderately sound pressure level "S.P.L.". Sometimes you can feel the beat and others you can't. This device might be ok for a violinist, flute, vocalist etc... but don't count on being able to feel the pulse "weak pulse" if you are playing in front of serious amps.
Features
The vibration device is in my opinion inadequate.
Quality
Feels like cheap materials.
Value
It could work for someoneelse
Manufacturer Support
don't know
The Wow Factor
Nothing special
Musical Background:
Over 40 years pro recording
2 of 2 people (100%) people found this review helpful. Did you?
Thanks for your opinion!