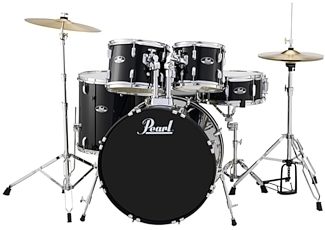 The Pearl RS525SC Roadshow is a gorgeous 5-piece drum kit with everything you need to start drumming -- even hardware and cymbals!
Overall User Ratings
(based on 3 ratings)
Submitted August 20, 2019 by Sean B in Chicago, IL
"Good overall. Hi-hats are cheap, though.&quot
Verified Customer
zZounds has verified that this reviewer made a purchase from us.
This is a very nice kit for the price - good for a beginner like myself. It sounds good and is easy to assemble. After a week of playing, I'm glad I picked up this kit.I only have two provisos for this kit.First - the video that Pearl puts together for showing you how to assemble it leaves a lot to be desired, though. I ended up on youtube and found a much better video showing how to put a kit together.Second - the hi-hat cymbals are cheap... After a day of playing the edges were dented pretty decently. Some of the technicians at zZounds I've talked to said that they might be cheap since they were for beginners - so be warned that you might be replacing those with something better after you get this.
Musical Background:
Played guitar and bass for many years for church gigs. Picked up the drum kit for the same.
Musical Style:
Rock, Christian, Country Western
19 of 19 people (100%) people found this review helpful. Did you?
Thanks for your opinion!
---
Submitted September 30, 2020 by DT C in Oklahoma City, OK
"Yup&quot
Verified Customer
zZounds has verified that this reviewer made a purchase from us.
I shopped for months trying to find the best deal on a starter drum kit. This is the one I ended up with, and im really impressed and happy. Never played drums before, so I didn't want to drop $1k on a kit that I wasn't sure I would even get in to. The instructional videos from pearl website are amazing and very insightful for a beginner. You have to put the time in learning how to tune a drum, there is no quick easy fix for that. If you don't have the ear for it you will never get it right. It takes time, practice, and playing around with different tones on the top and bottom head. Once you get it right there's no stopping you. Sure there are cheaper kits out there, but this is the cheapest drum kit you can find that sounds great. Whatever you do dont buy used. Spend the money on a new set if only for the warranty. Pearl has amazing customer service, and the warranty on the things that matter will last a lifetime.
Musical Background:
Vocals
Musical Style:
Everything
2 of 2 people (100%) people found this review helpful. Did you?
Thanks for your opinion!
---
Submitted November 8, 2021 by Russell N in Raleigh, NC
"Incredible Beginner Set With Room to Grow&quot
Verified Customer
zZounds has verified that this reviewer made a purchase from us.
For my son's 8th birthday, I couldn't figure out what to get him. I was perusing another site(sorry!), and some drums came up. I saw a lot of 250-300 dollar sets that came with everything from brands I've never heard with mixed reviews. So I decided to come to this site and look around and found this set almost immediately. I've always loved Pearl products and this set hasn't disappointed. If you are buying this set for learning or light jamming purposes, then this is the set you want. If you are willing to put some money into it, then you could easily do some light gigging with this set as well.
Sound
The cymbals aren't good, but they sound fine for what they are. The drums sound good and you get everything you need to play. I got this for my 8 year old about 6 months ago and he's played them every day since we got them. They have been an amazing kit for someone learning.
Features
The most useful features on the product is that it comes with literally everything you need and you will never find a better deal for a budding drummer than this kit.
Ease of Use
You will definitely want to replace a lot of the hardware and I will over time. This set seems sturdy enough to last a while. I plan on replacing the cymbals, stands, pedals and heads over time and as needed, but since I just play occasionally and it's mainly for my son to learn on, there's nothing egregious enough for me to want to replace immediately.
Quality
We got the blue set and it's looks amazing. I LOVE the look of this set. Everything has held up well over the last 6 months. Granted, as I said my son is 8, he hasn't broken anything playing it yet. I did dent the crash bell when I was playing it and I wasn't going that hard.
Value
The value of this set is second to none, honestly. For the price you get a set that you can jam and learn on until you become a pro drummer! It's easy enough to add on to as needed and the look of this set is just snazzy. I feel bad complaining about anything on this set considering I already feel like I stole money from them for everything I got.
Manufacturer Support
I haven't had to deal with the company directly, but they have amazing tutorial videos on their site.
The Wow Factor
When I learned to play drums some 26 years ago, my mom bought me a cheap set from the local drum shop and I used that set for literally 15 years. She spent more then on that set(although I did get some great Paiste cymbals with that set) than I did on this set. It was a drab black set and it was the best present I ever got growing up. I was so happy that I could do the same for my son and get him a way cooler set than that. It's been one of my favorite purchases I've ever made and it's awesome to see him on his drumming journey and having a blast while doing it.
Musical Background:
Drums, Bass, Guitar 20+ years
Musical Style:
Metal, Hard Rock, Blues, Hip Hop
Did you find this review helpful?
Thanks for your opinion!