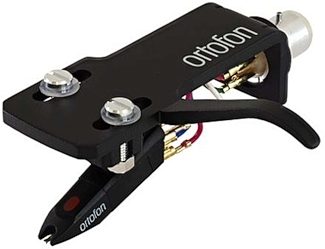 Want an easy, affordable upgrade for your turntable? The Ortofon OM PRO S cartridge is pre-mounted to an SH-4 headshell for easy mounting.
$117.99
---
No Credit Check

No Credit Check
Overall User Ratings
(based on 2 ratings)
Submitted September 1, 2019 by Lenny Madia in Clarksburg, WV
"Good for less&quot
Verified Customer
zZounds has verified that this reviewer made a purchase from us.
I recently purchased this cartridge with headshell as a backup for my Audio Technica cartridge that came with my AT 120XUSB turntable. I thought it much better to include the headshell to avoid the obvious problems associated with installing a cartridge. My expectations were not high, and I bought it relying on the advice of one of zZounds tech advisers. I noted it appears to be a DJ cartridge, but he said it would sound fine with my set up. Upon arrival, I was impressed with Ortofon's care in packaging. It was well protected and within a nice, if thin plastic case. And, It was easy to plug into the S shaped armOf my AT turntable. But the most important characteristic was to come; sound. I started with "Who's Next" by The Who, Side 2. The songs are pretty varied for Rock; there are a few low key melodies, an acoustic guitar masterpiece, and a hard rocking final. I felt it a good test. I can say without doubt from the first notes the cartridge performed well, much better than expected. Since I had a very good elliptical AT cartridge, (an nmv95e) for comparison, I can actually say the Ortofon held its own. Indeed, the lower frequency was as pronounced as the AT and perhaps a bit better. The midrange was a little wanting but not much and barely noticeable. The highs were good, and accurate, but seemed they were a wanting. Not as bright as I like. Yet that's more of a personable observation. The setup did fine with all vinyls. I have no complaints with the sound. However, I have slight misgivings with the suggested tracking force if 4 grams. That is twice as much as the AT cartridge, more than almost any hifi cartridge of which I am aware. So, one needs to be aware of that issue. All considered this is a fine sounding cartridge and concerning the price a great buy. I have no problem recommending this to anyone for a backup or for a newbie starter cartridge.
Musical Background:
I'm not s musician, but a hifi stereo owner.
Musical Style:
Primarily Rock, but I enjoy other genre such as Jazz, Classical, and folk.
4 of 4 people (100%) people found this review helpful. Did you?
Thanks for your opinion!
---
Submitted November 12, 2020 by a customer from gmail.com
"om cart premount&quot
Verified Customer
zZounds has verified that this reviewer made a purchase from us.
This is a great set up for people that want to have a premium cartridge but don't want to set it up. When you get this from zZounds, If you are the kind of person that isn't too fussy and really dont have a system that could benefit or bring out all the true details of the recording, (aka an audiophile (or audiofool... However you feel about that whole debate) this will work great even in stock format.. .. Don't get me wrong this is a solid cartridge and will play nice and clean, (as mentioned by another reviewer) especially for DJ set up . But the stylus that is premounted is made for DJ use. But the great thing is you have all kinds of Room to expand simply by changing the stylus. As far as moving magnet goes, the ortofon OM30 and OM40 are comparable and, even considered better in some circles, to the ortofon 2m bronze and $800.00 Ortofon 2m black cartridges. Plus the OM series is considerably more affordable than 2m series; OM30 or OM40 will easily replace the proS stylus on the OM cartridge and set you back 1/2 As much as the 2M series. OM40 is $420 on avg.. Which is super cheap for the quality of the Fritz Geiger stylus... And performance that it will bring.
2 of 2 people (100%) people found this review helpful. Did you?
Thanks for your opinion!