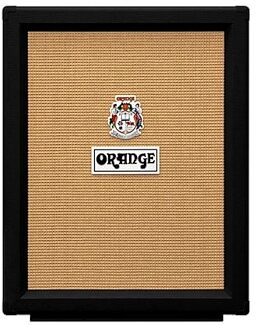 Check out Orange's first vertical cabinet design! The PPC212V is light, compact, and loaded with Celestion Neo Creamback speakers for thick, juicy tone.
$899.00
---
No Credit Check

No Credit Check
Overall User Ratings
(based on 2 ratings)
Submitted June 19, 2022 by ALLAN B in Tempe, AZ
"I Get It Now!&quot
Verified Customer
zZounds has verified that this reviewer made a purchase from us.
This review has been selected by our experts as particularly helpful.
For years I've heard people rave about Orange cabs and how great they sound. You can't find an IR pack out there that doesn't have at least one Orange cab in it. I recently picked up the Super Crush 100 head and decided I needed an Orange cab to go with it. To be honest, mostly for aesthetic reasons! I was torn between the 212V, 212OB, and the Super Crush 412. The 212V won out primarily because of size and weight and mostly stellar reviews around the internets. As soon as I plugged it in though, I got it. It just sounds great! The open back with the Neo Creamback's is a great pairing for the music I play which is mostly classic and 90's rock. It pushes and projects without being overly punchy like my closed back 212 V30 cab. Just to see how it sounded I plugged my Carvin V3M into it (Mesa ish style amp) and it cranked out the high gain really well also. I'm really happy with this cab!
Sound
I don't know how they do it, but it sounds excellent. I think this is a great overall cab that can cover just about any style and it's great for someone who plays covers and needs something that spans a lot of ground.
Features
Not much as far as features go, it's a cab. I love the look though. Something about that Orange tolex and the psychedelic font that oozes 'cool' to me. Maybe I'm just old lol. If I had to give any negative remarks it would be that there's a slight color difference in the Tolex between the offshore and UK made gear, but it's minor.
Ease of Use
Plug it in and adjust your volume. Boom, great sound.
Quality
It's still early but this seems really well made. I've watched a few videos on how their UK cabs are made and it's a solid build process. One thing that surprised me was how light it is for a 2x12 plywood cab. It's only about 43 pounds so it's very portable.
Value
It's not cheap, but it is in line with other what Western world manufacturers charge for gear that's not outsourced. In other words, it's worth the money to me!
Manufacturer Support
I have had a few Orange products over the years but never had to deal with them directly. Seems they crowdsource quite a bit. There are several Facebook groups that have a lot of answers. Their old forums are still up but are only there for reference.
The Wow Factor
It's an Orange, and it's orange. You either love that or you hate it lol. I love the look, the sound, and the general cool factor their products give off. I'm sure I'll be buying more of their gear.
Musical Background:
Old man who loves guitar and rock n roll. I'll be playing and gigging until I can't walk, and maybe that won't even stop me!
Musical Style:
Classic Rock, Prog Rock, CCM, a little of everything but Country.
2 of 2 people (100%) people found this review helpful. Did you?
Thanks for your opinion!
---
Submitted February 26, 2023 by brent miller in Noblesville, IN
"That's the ticket.&quot
Verified Customer
zZounds has verified that this reviewer made a purchase from us.
What a great cab. Looks great, sounds even better. Paired with the OR15 head it's pure magic. The neo creambacks sound amazing, and don't fear if you play heavier music. It's a great change tonally from the V30 and lends a helpful nudge towards the palm mute.
Musical Background:
We all have a past...
Musical Style:
Folk to metal
Did you find this review helpful?
Thanks for your opinion!