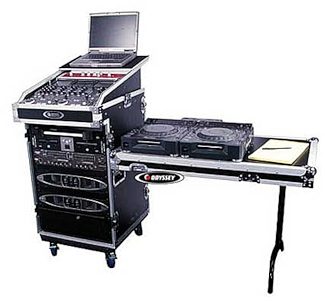 Get organized with the Odyssey Flight Zone glide-style workstation -- which includes a 16-space vertical rack, a slanted rack for your mixer, and side table.
Overall User Ratings
(based on 3 ratings)
Submitted July 11, 2021 by a customer from gmail.com
"Quality Control Needed!&quot
Verified Customer
zZounds has verified that this reviewer made a purchase from us.
My experience wasn't near as terrible as the previous review, but it wasn't extremely pleasant either. I've only had the case for a few days. The first defect I noticed was that that the rack rails weren't properly fastened. They were so loose that some of the hardware was bouncing around inside the rack. I had to tighten all the hardware for every rack rail. The second thing that I noticed it that whoever installed the hooks for the side table does not know how to read a tape measure. I relocate one hangar in order for the side table to function properly which required drilling. Thankfully, I'm a woodworker myself. So, it wasn't that difficult for me to correct the issues I have discovered so far.
Did you find this review helpful?
Thanks for your opinion!
---
Submitted June 18, 2019 by Mars B in Washington, DC
"Zero Quality Control or Care&quot
Verified Customer
zZounds has verified that this reviewer made a purchase from us.
I wish I could say diferently because all in all it seems like it would be a great case if: 1. Odyssey spent another dollar or so and put reinforced corners in the boxes they use to transport 100lb pieces of equipment. I have had 2 sent to me and in both 8 out of 8 corners were missing and 8 out of 8 ball corners on both unites were damaged. Either ground down or dented or both. 2. Odyssey did any type of QC inspection. They clearly dont. My Table wont fit on either side without loosening the screws and leaving them loose...which you might imagine cant be good for longevity. The front cover of my unit was put in incorrectly and locked that way, so the front cover is permanently warped. Oh and once its all together, I have to stick something under the table leg to get the table to sit flat. Looks super professional I tell you.3, If zZounds did some sort of inspection before shipping. This should never have gone out to a customer let alone twice.I wont even go into the way zZounds dropped the ball in shipping this to me when I was on a tight schedule. I wont go into how the CS supervisor told me he would personally make sure it was taken care of and didnt. I am not used to this kind of customer service from zZounds...and this is my first experience with odyssey but I'll tell you what. I will be exploring other options now. The case in itself looks like it will be great if the one you get is put together properly. If you dont have to loosen screws to get things to fit together im sure it would be wonderful. If you dont have to put folded up paper under a leg so the table will sit flat I am sure it will look super professional. But based on my review of the unit I received, none of this was the case. If this is best that a premium case maker like Odyssey can produce then I highly suggest you consider other options as well.
Musical Background:
Jam at home
1 of 3 people (33%) people found this review helpful. Did you?
Thanks for your opinion!