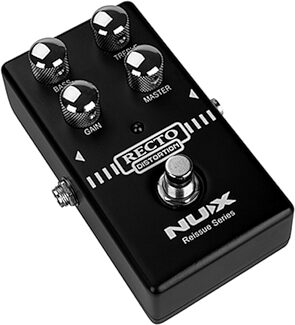 Get ready for some "in-your-face" '90s American distortion! The NUX Recto distortion pedal utilizes a pure analog circuit that simulates '90s rectifier amps.
Overall User Ratings
(based on 2 ratings)
Submitted August 9, 2022 by a customer from gmail.com
"A great budget distortion pedal for tons of styles&quot
I didn't order mine from zZounds (got it from a local NU-X dealer), but I'm a huge fan of zZounds and have ordered from them before. I would highly recommend getting this pedal if you need versatility. I largely use solid state amps. I've been using a Peavey Rage 158 lately, and normally solid state clean channels make distortion pedals really fizzy and nasty, but the Recto sounds huge and chunky going through the clean on my amp. I tried it through the overdrive channel set clean too, and it was more compressed and midsy, but still very fat and heavy. No matter which way you slice this sonic cake, it's gonna sound rich and creamy. There's a pretty good range for whatever kind of sound you need as far as rock and metal, it even does low-gain sounds pretty good too. As for quality, it mostly seems really solid, the pots are slightly loose but I'm not worried about them breaking, just be careful to not bump it too hard on the front. For $50 brand new, this pedal is an absolute gem. It even comes with a NU-X sticker, and I'm a sucker for stickers.
3 of 3 people (100%) people found this review helpful. Did you?
Thanks for your opinion!
---
Submitted May 20, 2023 by a customer from gmail.com
"WOW !&quot
Verified Customer
zZounds has verified that this reviewer made a purchase from us.
Great distortion that doesn't sound like a can of bees! Using a Blackstar HT Club 40 MKII, a Les Paul with EMG 81/60's, this pedal sounds incredible. Cleans up nice with volume rolled back and when opened up it puts out some serious chunk. A noise gate would top it off but definitely not needed. If you're into the Boogie tone you'll be expressed with this pedal!
2 of 2 people (100%) people found this review helpful. Did you?
Thanks for your opinion!