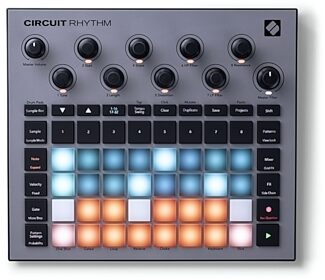 Record samples, slice them up, create beats, perform live, add effects and imperfections, and connect to your other gear with the Novation Circuit Rhythm.
Overall User Ratings
(based on 2 ratings)
Submitted October 11, 2021 by Ryan D in Cincinnati, OH
"Okay Product, Needs A lot of Work&quot
Verified Customer
zZounds has verified that this reviewer made a purchase from us.
I purchased this product a few days ago. For some people that might work. But for those who need more advanced features… This is not for you. The grid layout is not that difficult to comprehend. Especially in a few minutes to read the instruction manual is all that it takes to get a grip on how this sampler works. However, novation has a great concept here… But it misses the mark in many different ways. First, there is no attack sustain delay and release functionality. There is one knob that is slightly punchy with no release if it's turn to the left, and hardly no attack at all with a lot of release at the end. Another issue is that the knobs are extremely sensitive. It is extremely difficult to hone down the exact effects that you'd like in the exact levels that you would like. A tiny turn of the effects knobs is the difference between subtle and chaotic. There's no in between. There is no time stretching capabilities. You can either pitch up and down by a few cents, or if you semitones. Again… It's really hard to pitch up or down… Especially if you're dealing with a drum loop. There is no automatic BPM detection if you record a drum loop. That means that trying to slice a drum loop almost ends up needing to be a manual and tedious process.This unit has automatic threshold recording capability. However, the threshold is not changeable by the user. It's such a -54 dB. So if you have a vinyl record you're trying to lift a kick drum off of, Some types of vinyl noise will automatically set off the recording before you wanted to do so. When I was recording samples from a digital piano, that was no issue. The onboard effects are not really worth a dime. You have to manipulate them from the Novation components app on your computer. Once they are set… Then you have to send it to the device. You cannot manipulate your fax directly from the unit. All in all, it's a good idea… But the designers and creators need to go back to the drawing board and iron out many of the wrinkles that are on this unit. One thing I wish this unit had was press and release sample recording. I'm surprised that it doesn't because many of the other functionalities of this unit have the capability of adjusting whether or not a button is toggle, or press and release-based. What I would like to do is start playing the sample a few measures ahead of time, and when I come close to the samples I want to record, I would press and hold the record button to start sampling… And to stop sampling, release the record button. This unit does not have that capability. The record is a toggle operation instead. Sometimes if you wanna record a drum hit, records a variety of needless sounds … And trimming the samples can be somewhat tricky because of the extreme sensitivity of the control knobs. Again, it always feels like there is no gray area… As either black or white. There is, to be fair, the capability of fine-tuning a sample start and end time… But unless you have the shift button set a towel mode… It makes it extremely difficult to do.I do find that the unit has a lot of positives as well. Memory to be easily added to expand the capabilities of this unit. It takes a microSD card. In addition, the novation components platform is absolutely terrific at managing your sample packs. It's easy to manage your sample packs from samples that you've recorded… Or samples you would like to load onto the unit. It makes it very easy to do that. It requires very little power to operate. It has an internal rechargeable battery which means… You can take it with you on the go and record samples and load it into the unit. I don't believe this unit is worth $399. Alternatively, maybe 199 or 299 at most. It's OK… But if you are serious about sampling, and you're looking for an external unit to manage your sample files for you… Spend the extra The sound that comes out of this product is very good. The included factory packs have rather excellent samples. The difficulty and the dissatisfaction from this product stems from manual sample recording.money and go with a Akai sampler. If you're looking for something basic, this will be it.
Sound
The sound that comes out of this product is very good. The included factory packs have rather excellent samples. The difficulty and the dissatisfaction from this product stems from manual sample recording.
Features
The most useful features of this unit is the Novation components app that goes alongside this product. In addition… The factory sounds are very good. The onboard effects however are lacking, mediocre quality at best, and the extreme sensitivity of the knobs is the difference between subtle and extreme effects. Again… There are no attack sustained delay in release settings for this unit. There is no time stretching capability for this unit.
Ease of Use
If you have some patience… You can get some really good sounds from this unit. However, I found it difficult to do so.
Quality
For being a plastic with rubber pads… It actually is a sturdy unit. It seems like it's well-built. As long as it's properly taken care of… Should last for quite a while.
Value
I do not believe this product is worth $399. It's lacking serious features that should be standard on any sampler. In addition… The onboard effects are not good… Mediocre at best. You could have a better sampling experience by using your DAW built-in sampler.
Manufacturer Support
I've purchased several novation products in the past. This is the first one that I'm truly disappointed with it.
The Wow Factor
This product is appealing… But once the end-user dives in to really find out the lack of important features… It makes it incredibly unappealing really quick.
Musical Background:
Remixer and Producer
2 of 2 people (100%) people found this review helpful. Did you?
Thanks for your opinion!
---
Submitted March 11, 2022 by Ethan G in San Diego, CA
"Good Sounding Effects - Bad UI&quot
Verified Customer
zZounds has verified that this reviewer made a purchase from us.
Off the bat the build quality was cheaper than I expected, as it seemed to be mainly plastic, but not even a more rugged thick plastic. Infinite scroll data knobs for most of the controls, and velocity sensitive pads which are the same ones as the novation launch key, so the pads are at least reliable (albeit small). The rechargeable battery is nice, and the weight and size are good.However, the boot up is super slow and the setup takes a few. At first I appreciated the free samples thrown in to demo the device but after a while I seemed inundated with them when I realized there's like 8 banks full of monophonic chops. Now you have to take time to clear some out and set up new projects/banks. Overall the user interface is not intuitive or as nearly approachable as other units in the range.This is definitely more effective as a sequencer and effects unit, but it's not ideal if you like looping, layering, resampling, and easy capture. The unit automatically aligns everything to a grid, so although you can get close you can't actually get a true, loose, swinging feel. The Grid FX do sound great and the programmable effects automation is nice but that's the extent of my positive experiences with the device. Happy Shopping!
Musical Background:
Professional recording artist, 16 years of experience.
Musical Style:
Hip Hop, Alternative, Psychedelic, Synthwave
Did you find this review helpful?
Thanks for your opinion!