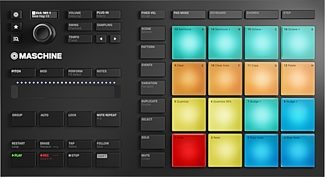 Inject some inspiration with the Native Instruments Maschine Mikro MK3 -- its pads and Smart Strip add a tactile feel to software instruments and drums.
$269.00
---
No Credit Check

No Credit Check
Overall User Ratings
(based on 1 ratings)
Submitted January 18, 2019 by ALLAN B in TEMPE, AZ
"Very Cool&quot
Verified Customer
zZounds has verified that this reviewer made a purchase from us.
This review has been selected by our experts as particularly helpful.
OK So I'm an old guy, and buying a 'beat box' was literally the last thing I ever thought I would do. I don't play house, hip hop, or EDM, but I've always been fascinated with electronic music and how to integrate it into my more mainstream rock/jazz/crap original compositions. After researching and getting Komplete I saw a ton of videos about Maschine and well, I took the bait and got one.If you are already familiar with sample players then this is a no brainer. Maschine is a powerhouse tool for what you already do. If you aren't, then don't be like me and pigeon hole them into a single class of music. You can do almost any type of music on this system. Yes, it's a different way of doing things, but for me at least, it breaks me out of my linear music production mindset and allows me to think about music differently and be more creative.The software works seamlessly with the hardware. Load it on a laptop and sit on the couch with phones on and sketch ideas all day long. It does take a bit to understand the relationship between patterns and scenes and how it all works together. There are hundreds of instructional videos out there to assist, but the NI YouTube videos helped me the most with the very basic elements of the software.The box itself seems very well built. It has some weight to it which adds to the feeling of quality. The pads are very very nice and respond well to touch velocity. I would recommend this for home studio and composition any day of the week, but if you are thinking about using it live you may want to look at the MK3 instead of the Mikro. You still need to use the PC a little with this box, which is fine for me.
Sound
It comes with the Maschine Essentials library and a few other goodies, and there are thousands of sounds to play with right off the bat. They all sound really good, but IMHO they are mostly geared towards EDM and dance music. I upgraded to the full library once I got familiar with the software so I could have a bigger variety of sounds to work with.
Features
I like that I can do so much from the box itself and just get lost in it. I wish the display was a little bigger for my old eyes, but I certainly understand why it is the way it is in order to keep the cost affordable.I also like that Maschine pulls in other NI instruments you have into the sound libraries. The possibilities are endless!
Ease of Use
Once you get the hang of everything it is very easy to use. Again, if you are new to this definitely take some time to watch the NI instructional videos because some actions don't seem very intuitive at first.
Quality
The build quality is excellent.
Value
I think overall this is a great value if you are looking for a different way to make music, or just want to get into beat making in general. I can't compare it to other products because this is my first foray into this type of equipment.
Manufacturer Support
I had one small issue activating the product and it was my own fault. NI got back to me the next day via email, but by then I had already figured out what I did wrong. I suggest taking a picture of your serial number and blowing it up on your phone. The S and 5, and B and 8 look very similar, even to my kids much younger eyes!
The Wow Factor
I'd say there's a lot of Wow in this box!
Musical Background:
Guitarist for 45 years and dabbled in keyboards along the way
Musical Style:
Prog rock, jazz, Christian
42 of 42 people (100%) people found this review helpful. Did you?
Thanks for your opinion!