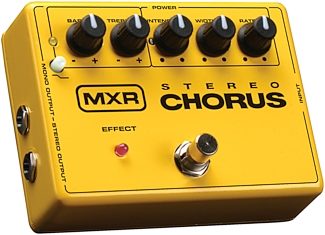 Add some animation and sparkle to your tone with MXR's M134 chorus pedal. Dial in Rate and Width, then crank the Intensity knob to adjust the overall level.
Overall User Ratings
(based on 20 ratings)
Submitted July 16, 2018 by Mark R. Garner in Metairie, LA
"This Pedal is PHENOMENAL&quot
Verified Customer
zZounds has verified that this reviewer made a purchase from us.
I have the MXR Black Label Chorus (the same pedal as the M234 'Analog Chorus', only with different graphics) but decided it just wasn't as impressive as all the reviews made it out to be so I opted for MXR's deluxe model stereo chorus. The difference between the two is beyond noteworthy. The BLC added a nice wobble with adjustable thickness but the crystal clear shimmer I had grown accustomed to with my slowly dying vintage Danelectro Cool Cat (the big surf green metal one from the mid 1990's) was noticeably ABSENT. I hooked up "big yellow" and was knocked out by the sound. I practice using a stereo rig with a Vox Pathfinder 10 and a Fender Rumble 25 bass amp. The Stereo Chorus made it sound like a much more expensive pair of amps. Randy Rhoads used the "original MXR" version of this pedal and when I arppegiated the 'barred B & A chords with the open E & B strings' pattern, it sounded exactly like the opening of 'You Can't Kill Rock and Roll'. Any pedal good enough for Randy is good enough for me (and you). (For a guitar I was playing a white Epiphone Les Paul Custom with Seymour Duncan "hot rods". Yeah, I'm a Randy fan!) The individual controls allow for a great many varied settings but once I dialed in the sound I got from my old Danelectro, I stopped right there. I have to say the bass filter switch is a real asset since I have a bass amp in my rig. I should take a photo in case the knobs get moved when putting the pedal away. I have to conclude my review with a shout-out to zZounds. I bought this pedal as a "blemished" model and it was shipped without the power supply. (All 18v MXR pedals include the power supply.) I sent an email to zZounds and received a reply 24 minutes later saying the power supply would be shipped posthaste. 24 MINUTES?! That is outstanding customer service and with service like this, zZounds will continue to be my #1 choice when buying gear.
Musical Background:
Former semi-pro now a stay-at-home jammer.
Musical Style:
Rock, rock & more rock, with an emphasis on The Beatles, Yardbirds & early Pink Floyd.
3 of 4 people (75%) people found this review helpful. Did you?
Thanks for your opinion!