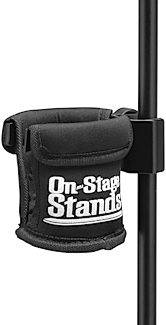 Keep hydrated without worrying about spills. The insulated Clamp on Cup Holder by On-Stage keeps your drink safely within reach while you perform.
Overall User Ratings
(based on 3 ratings)
Submitted June 3, 2011 by a customer from netzero.net
"A LIFESAVER&quot
Verified Customer
zZounds has verified that this reviewer made a purchase from us.
I am very pleased with this item. In fact, I ordered two. One for my drink and in the other I put the keys to my van, cell phone, business cards and loose change. It's amazing how little gadgets like these make your life easier. No more picking up your spilled drink from the floor because you accidently kicked it in the darkness of the stage. No more performing with keys, loose change, cell phone and assorted stuff in your pockets that are unconfortable and then you drop your stuff or forget it and have to take an extra run back for these little things.
Sound
Very Quiet. No distortion whatsoever.
Features
It clamps on easily and securely. You can adjust the width so bottles of water, cans and other mid-sized containers fit good. I would not recommend putting a "Big Gulp" from 7 eleven or a forty ouncer because it won't expand THAT much. But for soda cans, small to mid sized water bottles, vitamin water, Gatorade or even a 24 oz can of beer or Arizona Ice Tea will do good.
Ease of Use
So easy..even a caveman can do it LOL
Quality
It seems very well made. Looks sharp. It also seems roadworthy and will hold up to the rigors of touring. It fits most any size of tubing. Mic stand, keyboard stand, even speaker stands and the sure grip knob stays put. Set it and forget it. Just don't overload it and use it as it is intended to and I can see me using them for a LONG LONG time. Even if you spill liquids the material won't get damaged. Just wipe off with a towelette or damp cloth and VIOLA...another "cerveza" please.
Value
Price is good. Other were cheaper, but didn't look as professional. Other were more expensive but looked uncool...maybe my grandpa could use something like that but definetly not a pro musician.
Manufacturer Support
Haven't needed them. I have quiet a few other On Stage products. Adapters, mic stands, keyboard and mixer stands, drink holders and assorted knick knacks and none have failed to perform after years of use and abuse. I don't even think about them because they are there and do their job night after night. With so many other things that might go wrong before a show these products are one less thing to worry about. Very reliable. So far so good.
The Wow Factor
The black nylon covering with the white OnStage logo looks cool and sexy. Other drink holders I had considered look too..bulky and weird...like they belong on a bicycle or in a mechanic's shop. C'mon..were musicians. We are the epitome of cool and this looks sleek, sexy, and more important..the girls like it..nuff said. And it's cool to pick up your drink from your keyboard stand as opposed to the floor or a table...and then fumble and drop your drink...not very professional looking. It's an idea who's time was way overdue.
Musical Background:
Pro Musician/Singer/Composer
Musical Style:
World Music
3 of 3 people (100%) people found this review helpful. Did you?
Thanks for your opinion!
---
Submitted November 30, 2009 by a customer from yahoo.com
"Easy Water!&quot
Verified Customer
zZounds has verified that this reviewer made a purchase from us.
Features
Clamps right on to the mic stand. Adjusts with a screw. It's great! I gave mine to someone else so now I need to get another one.
Ease of Use
So easy to use.
Value
Great product for the money!!
The Wow Factor
Got to have another one!!!
Musical Background:
Active Musician"
3 of 3 people (100%) people found this review helpful. Did you?
Thanks for your opinion!