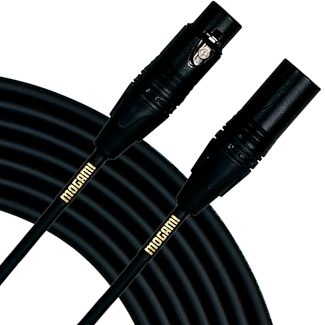 Bring Mogami Gold quality to the stage with this strong, flexible mic cable. Crafted from 105 copper strands, this XLR cable delivers transparent sound.
Overall User Ratings
(based on 8 ratings)
Submitted July 1, 2018 by Tom H in Clinton, TN
"Because My Performance Cannot Afford Cheap Gear &quot
Verified Customer
zZounds has verified that this reviewer made a purchase from us.
The Big Debate—"Is there really that much difference in cables?" You will always find most all professional "music is my career and pays the bills" musicians, engineers, and producers will give a resounding yes. Amateurs, Hobby Players, and the occasional gigging musician will usually say maybe or no or "I can't tell the difference"—answers and arguments vary—but are really revealing the bottom line..... "I can't afford them." For the occasional gigging, garage, or just loves to play musician.....Mogami is likely overkill and truly isn't worth putting that kind of money into. But when you are gigging week after week, year after year, add rehearsal and so much plugging and unplugging countless times...Mogami is the answer to zero stress and worry over a bad cable. And when one ever does go bad....Lifetime Warranty is nice to have in your back pocket. You buy ONE cable instead of many over time...for life! My single acoustic performance requires 9 cables...TRS, XLR, & Patch. I also keep one extra of each for a total of 12 cables. That's about $590.00 worth of Mogami Cables. Why the 3 extras if they are THAT reliable? Anything can happen and if it's on a gig night....I'm covered until I can get it's replacement.....free. Since using Mogami, never once....not once....in over 10 years and countless shows have I ever, ever had a cable problem. When I go onstage I don't want to have worry about some technical, "OMGod...which cable is going out nightmare" I'm there to perform, not be a troubleshooter repairman. So with preaching here done..... You absolutely will never regret a Mogami Cable purchase, even if you can only get one at a time. My performances cannot afford cheap gear. If you are a serious musician, gigging on any real regular basis....just make the purchase. You aren't just purchasing a cable. You are purchasing unequaled quality and confidence. And No, I am not affiliated with them in any way. As if that quality wasn't good enough....getting them through zZounds is fast and I wouldn't have spent thousands of dollars with them over the years if everything about their service, prices, and policies weren't the very best in the industry. Just buy them!
Sound
Yes, if you are really professional with professional experience you can tell the difference in cable quality. Perhaps it is "musician's ear" difference....but there is a difference.
Features
You can't get a cable built with better material, solid components and wiring anywhere. Available in different quality categories and sizes for different uses.
Ease of Use
You plug it in.....you unplug it...you plug it back in. I don't think anyone will have any trouble figuring it out.
Quality
Again, there is no better cable made. Equal? Perhaps, I don't know...don't need to. Lifetime Warranty sort of says it all.
Value
Pricey...the best usually is. Sure, I'd rather have paid less, but my peace of mind with my performances is more important to me. My performances cannot afford cheap gear.
Manufacturer Support
Never had to deal with them and doubt I ever will.
The Wow Factor
The only Wow Factor would be if I ever have one go bad and they give me that new one free. I suppose you would call that a Wow Factor.
Musical Background:
Professional working musician for 26 years. Guitar, Banjo, Piano....solo acoustic show.
Musical Style:
Acoustic fingerstyle, pop, country, all classics.
6 of 6 people (100%) people found this review helpful. Did you?
Thanks for your opinion!