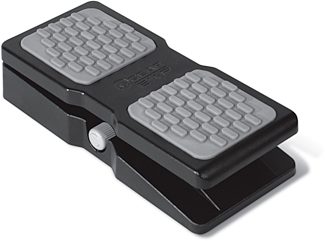 Use this expression pedal from M-Audio for more dynamic playing on your controller. It has the ability to adjust volume, modulation and more.
Overall User Ratings
(based on 5 ratings)
Submitted October 21, 2008 by a customer from gwi.net
M-Audio Expression Pedal Customer Review
Verified Customer
zZounds has verified that this reviewer made a purchase from us.
Sound
I just bought this pedal as an expression pedal for the organ function on my Roland RD700sx. I tested it, and I'll be returning it. I experimented with the volume and expression control settings on the Roland as well as the switch on the pedal. The best result that I got was only a small dynamic range that occurred at only in the middle 25% of the pedal travel - not very useful.
Quality
made of plastic, but seems sturdy
Musical Background:
semi-pro
11 of 13 people (85%) people found this review helpful. Did you?
Thanks for your opinion!
---
Submitted January 20, 2008 by green.jazzer
"Best buy Expression pedal&quot
Sound
BEST BUY, I have this pedal on Roland RD-700SX, it's great.
Features
-2 mode polarisation -min volume
Quality
it's made from plastic but it's hard to breake somethink
Manufacturer Support
I have no problem's yet
Musical Background:
Active Musician, Recording Engineer, Band Director
1 of 3 people (33%) people found this review helpful. Did you?
Thanks for your opinion!
---
Submitted March 9, 2009
M-Audio Expression Pedal Customer Review
I am currently thinking about getting a more expensive pedal to try to find one that's not such a plasticky toy.
Features
Knob to adjust minimum level is useful when you're using this to control a lowpass filter (wah effect) so that you don't completely kill the signal when the pedal's all the way up. That said, the knob is EXTREMELY TOUCHY and rarely stays in place once you set it.
Ease of Use
Plug it in and it works. Kind of a no-brainer.
Quality
I've had mine for about two years. I rarely use it anymore because of its shortcomings in the quality department. The problems I've experienced are: (1) as listed above, the "minimum signal" knob is not stable and way too sensitive (2) the pedal itself is hooked into the mechanism by means of a flimsy piece of plastic. it comes unhooked all the time and the first time it happened i thought it had simply snapped. which it might, at any time, for all i know (3) the pedal does not have enough resistance so it winds up feeling very flimsy and toylike. it falls down all on its own quite often, as a result, which is obviously not good for performance situations. I would not recommend this product for a gigging performer. at home messing around it's good enough for the price, but i'd be tempted to spend the extra $10 for the moog pedal.
Value
it's cheap, in every way.
Musical Background:
sometimes active musician, sometimes hobbyist
Musical Style:
rock, electronic, funk
21 of 21 people (100%) people found this review helpful. Did you?
Thanks for your opinion!