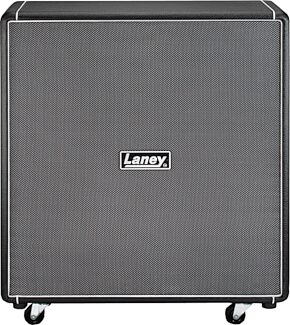 Loaded with a pair of iconic Celestion G12M Greenback speakers, this Laney LA212 50-watt 2x12 cab features an angled baffle and is hand-built in the UK.
Overall User Ratings
(based on 1 ratings)
Submitted February 19, 2022 by Tim B in Avon, OH
"What a great cab&quot
Verified Customer
zZounds has verified that this reviewer made a purchase from us.
I have been looking for a 2x12 cab for along time. I bought a Laney IRT60h a few years ago, and have been blown away by the quality of that amp, and it's made in china. So when this UK made cabinet arrived blown away can't even begin to describe my feelings. Solid built. So well made. The tolex is perfect. The casters seem heavy enough to support a bus. The handles are integrated so smoothly. I can't sing loud enough about the build quality of this cab. The sound it just as pleasing as the look. Tight and punchy. Just brilliant sound. I'm not sure what speakers are in there. I think they are vintage 30's, but I can't swear to it. They sound amazing. I have a vintage ADA 2x12 with G75T's in it, and this Laney leaves my trusty ada in the dust. I've owned that cab since 1987. I think it's going to get sold. I ran my new Laney cab through everything my IRT60 could toss at it. It never disappointed. Clean it just glistened. Those 12" drivers just sparkled. Crunch was perfect. Tight and punchy. The response from all that air moving in that ported cab just rocked. That's all I can say. It rocked. The higain setting is where my rig really came alive though. Obviously the IRT is a metal monster. Although very capable in its own right, but that Black Country Custom just plain screamed when I hit the lead channel and ripped the gain off. Lol!! I'm not going to debate anyones personal preferences here. We all know there is plenty of quality out there. I am going to say this. My Laney is a heavyweight contender. It will go toe to toe with any mesa, and Marshall, and any other hi end manufacture you can throw at this thing.
Musical Background:
80's metal
Musical Style:
Metal, rock, hard rock
Did you find this review helpful?
Thanks for your opinion!