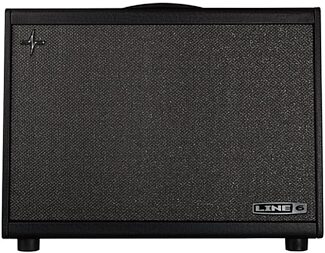 Specifically designed for use with professional modelers, the PowerCab 212 Plus features 12 proprietary on-board speaker models and a USB audio interface.
Overall User Ratings
(based on 2 ratings)
Submitted December 16, 2021 by Vincenzo X
"Great sounding stereo cabinet for modelers&quot
Verified Customer
zZounds has verified that this reviewer made a purchase from us.
PROS:Sounds great, has a little of the grunt of a tube amp, built in speaker profiles are the real deal, stereo effects sound amazing, good features.CONS: AES input doesn't work with Kemper Profiler. Support is a limp noodle.
Sound
I'm using this with a Kemper Profiler and it sounds pretty great. Stereo effects sound heavenly with the width set to about 145% and I get lost in them. Has the low end oomph and growl that sounds more like a tube amp than others I've heard. I compared it to the Kemper Power Kabinet and liked this much better. Most of the built in speaker profiles are very usable, and I use a simple midi switch pedal to flip between them to find the best for whichever profile I'm using.
Features
The width control and speaker profiles are the most useful, as well as the ability to use each side independently and run direct out to another cabinet or the PA. The built in kickstand legs are great too.
Ease of Use
It's very easy to get great sounds, just hook up your modeler, disable any cabinet emulation on your modeler, and turn the dial to audition speaker profiles.
Quality
The Cabinet is very well made and seems sturdy and built to last. The AES input does not work with Kemper in spite of trying several S/PDIF to AES impedance converters. I've seen others have the same issue and never get it working, but one or two did after an exchange. I suspect it's a bad batch of AES inputs. The analog inputs sound great, but I don't like when a product advertises a feature and it doesn't work.
Value
If I were to buy two Kemper Power Kabinets to run stereo, that would cost around $1400, so this is something of a value over that option.
Manufacturer Support
I contacted Line 6 support about getting the AES input to work with my Kemper Profiler. They took 3 business days to respond (had to wait over the weekend), and weren't helpful. The problem was never resolved.
The Wow Factor
It checks a ton of boxes, for me the biggest of which are great sound and stereo. It's not something I need to make great sounds, but it sure makes it easier and faster.
5 of 5 people (100%) people found this review helpful. Did you?
Thanks for your opinion!
---
Submitted March 11, 2023 by a customer from gmail.com
"Loud!&quot
Verified Customer
zZounds has verified that this reviewer made a purchase from us.
The Powercab showed up in perfect condition and linked up to my Helix right away, I watched some setup YouTube videos while waiting for shipping and knew what to do as soon as I unpacked it, I'm using the speaker mode and ir mode, the frfr mode ok…
Did you find this review helpful?
Thanks for your opinion!