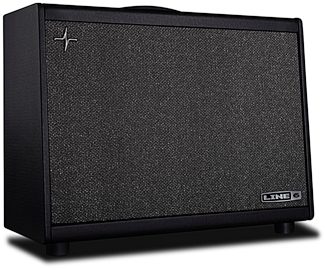 A 250W power amp, 12" hybrid driver and built-in speaker models with up to 128 presets make the PowerCab 112 Plus the perfect companion for your modeler.
$849.99
---
No Credit Check

No Credit Check
Overall User Ratings
(based on 3 ratings)
Submitted April 5, 2021 by Allan B in Tempe, AZ
"Your Modeler's New Best Friend&quot
Verified Customer
zZounds has verified that this reviewer made a purchase from us.
This review has been selected by our experts as particularly helpful.
I just went back to Helix after using Mesa MKV and Friedman JJ amps. The band doesn't play a lot of gigs that require miking up the guitars or using direct FOH, so the speaker I chose had to sound great on its own and not just something to monitor myself with. The last time I went down the FRFR road it didn't work out very well. I know it's not the boxes it's me, but regardless I got tired of constantly trying to find the right IR or thinking I found one that sounded good at home only to have it sound like crap at band volume yada yada. When I was researching speakers for the Helix I heard a lot of great things about the Powercab so I thought I'd give it a shot. The speaker modeling is somewhat unique, and I thought it might be the shorter path to better tone for me. It arrived 2 days after I ordered and the set up was very easy. I had already decided to use L6 link instead of XLR because I wanted to remotely control the cab via the Helix and not have to set up MIDI. Out of the box it was still on an old software version and needed an upgrade to support the L6 Link remote control, but updating it only took a couple of minutes. Just hook it up to your computer with a usb cable and download and run Line6 Updater. 5 minutes later you are up on version 2. After that it was just plug the Link cable in and turn it on. I started with building a basic high gain patch with the Friedman model with no cab. I chose the Vintage model in the PC+ and immediately noticed that the boomy bass and shrill high end that I didn't like with FRFR was not there. It sounded, well, more like a guitar amp! Did it sound exactly like my JJ running into a V30 cab? Probably not, but it sounded very good and that's what I was after. I didn't need to add in EQ blocks to 'correct' the sound either, the amp EQ sections are all that's needed to tweak the tones I wanted. After playing with it for over a month and having a chance to hear it at band levels I can honestly say this is the best solution I've found for modeling. And yes, there is plenty of volume. There are 2 other guitarists in the band and the PC+ kept up fine with more to spare if needed. I would recommend the Powercab+ to anyone looking for a modeler speaker solution.
Sound
I'm very happy with the sound quality. It may not sound identical to the original speakers modeled but honestly I don't have that good of an ear to know the difference. I do know my high gain and crunch patches with the Vintage or Green sound just like I want, and for clean-ish tones the Essex with a Vox amp does the job quite nicely. Whether it has the mythical "amp in the room" sound or not is going to be up to each user's own ears. I will say it sounds more organic and amp-like than any FRFR I've used and leave it at that.
Features
This has so many features it's hard to list what I find most useful. Physical features like being fairly lightweight and having tiltback legs are certainly helpful to an old guy like me. The tiltback seems extreme but it works well and I don't feel the need for an amp stand. MIDI or L6 link to remotely change cabinets with each patch is great, and with the L6 link it can easily be done within each patch. I also like that the L6 link runs audio and data. Why use 2 cables when you can to it all with one? The ability to use it as a standard FRFR to run IR is another cool feature and I like that if I need to I can go direct to FOH via through the PC+ and use a separate IR to FOH and speaker modeling in the cab. Lastly, this can be used with any modeler. You can send MIDI messages via standard 5 pin MIDI cable to change speakers and IR within patches from just about any modeling product. If something ever trumps the Helix, I'll still have a great cab to pair it with.
Ease of Use
It's incredibly easy to get good sounds. Turn the knob on the top until you get a speaker you like. The speaker modeling sounds great. I've dabbled with some of the IR's and they sound great too. Some folks have complained that it doesn't have enough volume but that's not been the case with me. You will need to make sure the output levels on your modeler are properly set to get the most volume and avoid clipping. If you aren't familiar with how to do this, I would suggest checking out YouTube videos by Jason Sadites or Steve Sterlacci on how to properly set patch levels. It's super easy and mostly common sense, but something a lot of folks overlook. And don't forget to include your solo boosts when setting levels!!
Quality
By all appearances it seems very well built and sturdy and has a quality feel. I know there are people using these on the road and that also says a lot about the build quality. It's been tossed in and out of my trunk a few times now with minimal wear and tear showing. It would be nice if it was made of birch and covered with Tolex, but that would only add to the cost and weight. As it is the box is solid.
Value
At first glance $799 seems expensive for a 1x12 cab. However, when you consider what it can do that others can't and then compare it to other 1x12 FRFR that are $1,000 and up it starts becoming a better and better value. If you don't need MIDI or remote speaker switching, then there's also the standard Powercab that's a couple hundred less. Sounds the same just not as many features.
Manufacturer Support
Over the years I've purchased quite a bit of Line6 gear and they have always provided me with great support. They have a very good user forum with plenty of knowledgeable and helpful people and Line6 also has reps in some of the larger gear forums. Line6 has a good history of product updates as well. The PC+ has already received an update with some additional features and I expect they will continue to update as needed. They seem to do a pretty good job of listening to their customers when it comes to requesting features etc.
The Wow Factor
Speaker modeling, FRFR, and IR all in one cab that sounds really good. That's pretty wow to me! I think this will appeal to players like myself who use modeling and are looking for the best sound without a lot of fussing, or just plain don't like the sound of an FRFR as much as a normal amp and cab.
Musical Style:
Rock, Prog, CCM
12 of 12 people (100%) people found this review helpful. Did you?
Thanks for your opinion!
---
Submitted May 12, 2018 by Nathan B in Tempe, AZ
"Worth the upgrade for helix users&quot
Verified Customer
zZounds has verified that this reviewer made a purchase from us.
So I was incredibly skeptical. I play through an Orange Th30 rig typically. I love my Helix, but I wanted to try the FRFR route. Off of many recommendations, I bought a ALTO TS212. It's a great inexpensive speaker, but always seemed lacking to me, especially when I was using clean tones. The Powercab seems to resolve all of that. If you're expecting the speaker models to sound like a 4x12 in the room, it's not going to be fulfilling. Everything you put through it is going to sound like a 1x12 combo. That being said, the feel is so much better than the IR path to me. IR's are great for recording and direct to PA, but the feel of this speaker seems much better to my ears at volume. All of this is subjective, but I think
Musical Style:
Post Punk, Indie, Alt Rock
23 of 26 people (88%) people found this review helpful. Did you?
Thanks for your opinion!
---
Submitted June 14, 2019 by Chris B in Minot, ND
"Sounds Like A Good PA Speaker&quot
Verified Customer
zZounds has verified that this reviewer made a purchase from us.
I bought this speaker to use with my Kemper. I'm used to gigging in small venues where the guitar amps aren't run through the PA, which means I'm used to the sound/feel of a tube amp at a healthy volume behind me. I've tried several PA speakers (after all, they're more or less FRFR) but was never happy with how they felt to play through. Enter the PowerCab—the knight in shining armor for modeler/profiler users who need a "real" amp behind them. Unfortunately, I didn't feel like this provided much of an advantage over those PA speakers I tried. The IRs/speaker models are cool, but they don't make this a 1/1 replacement for a real guitar cab. On Flat mode, I got the same experience I get from any other PA speaker; it sounded great, but wasn't able to convince me I was playing through a real amp. I held out a lot of hope for this cab. I've been souring on the Kemper just a little bit in recent months, and I had earnestly wanted this to restore my faith in digital amps. I didn't really care much about the speaker models or IRs. Above all else, I wanted to believe Line 6's (and all the "review" websites') claims that the PowerCab feels just like a real amp. Sadly, it does not. It's really not a bad product. It's lightweight, it looks cool, and it doesn't sound BAD. It just doesn't sound better than my Presonus Air12 or my EV ZLX12, and it doesn't feel better, either.
Musical Background:
Weekend-gigging, occasionally-recording guitar player
Musical Style:
Country, Rock, Blues
4 of 6 people (67%) people found this review helpful. Did you?
Thanks for your opinion!