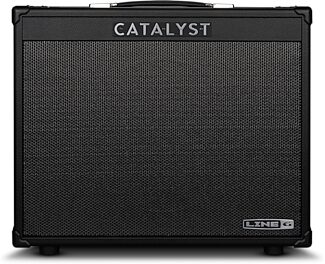 Perfect for both stage and studio, the Catalyst 100 offers a robust 100 watts of power and a USB output that transforms the amp into a 4-channel interface.
Overall User Ratings
(based on 2 ratings)
Submitted March 20, 2022 by ALLAN B in Tempe, AZ
"Very Good Sounding Amp - With some limitations&quot
Verified Customer
zZounds has verified that this reviewer made a purchase from us.
This review has been selected by our experts as particularly helpful.
Please do some research and be informed ahead of buying this amp so you are not disappointed. I'll get this out of the way. This is not a Katana killer. The Katana is an all in one. The Catalyst is a great modeling amp but it lacks the full complement of effects to make it a true all in one for most people. Read on and I'll explain.I use a Helix as my main gig rig and I keep a Marshall DSL and a Katana 100 around for those times I want to use a combo, or there's no PA for the Helix. The Katana has spent most of the last 2 years as a backup, I never really bonded with the high gain. I love the Marshall but I'm getting older and lugging that thing around is becoming a chore. I wanted to give the Catalyst a try to see if it could be a legitimate replacement for the DSL. So far, it's proven worthy of the task. I enjoy this amp quite a bit but it's not without its drawbacks and design decisions that leave me scratching my head…. On the positive side, the amp models sound nice and are responsive for a modeler. It's lightweight and easy to move around and it's loud enough to jam/gig with no problem. MIDI is a huge plus and to get the most out of it you really need some form of MIDI foot controller. I use it with an HX Effects so I have all my time-based effects in the loop and can engage the boosts and change amps/parameters via MIDI. I haven't tried it with traditional analog drives yet, but from what I've seen on the YouTubes it takes them well.The negatives are few but could be dealbreakers for some. First and foremost, I can't for the life of me figure out what they were thinking when it comes to the effects. Reverb can be on all the time, but you can only run the delay OR the modulation OR the pitch at one time, not together. Modulation without Delay? That's borderline blasphemous! If you have a pedalboard or multi-effects it's a non-issue, but it keeps the amp from being a true all in one solution for stage or studio. Another ding is it lacks is a footswitch, but any standard 2 button TRS style switch that most of us already have lying around works fine, and if you are using MIDI it is not needed at all. Lastly, the amp selector switch. I see no practical reason to illuminated an area of a circle to indicate which amp you are using because…..you guessed it, you can't see it in the sunlight lol! A simple arrow on the knob would suffice or at least use a color besides white… SMH. Having said all of that, I still like this amp quite a bit and it will be replacing my DSL as my go to combo. It's got great sounds and with MIDI it can be an incredibly versatile amp that can cover just about any musical territory. I'm very happy with my purchase. If you are interested in this amp by all means check it out, I don't think you will be disappointed as long as you know what you are getting. And if you don't like it, the great folks at zZounds gladly take returns so what do you have to lose?
Sound
As an amp, the overall sound quality is very good. It's one of, if not the best modeling amps I've ever played. Each of the different amp models has a unique character and feel to it. They aren't exact replicas of any particular amp, but you get the gist of what they were going for. The boosts are paired to the amps and for the most part seem to match up well. Be aware if you have single coils the boost on the high gain amp is going to require that built in noise gate… The effects are ok overall but nothing to write home about. The delays and verbs are nice just like in the HX, but the modulations are a little meh, and the pitch effects are mediocre at best.
Features
For me, the most useful feature is the MIDI implementation. Just about everything can be controlled via MIDI CC and it opens the amp to 12 presets. I also appreciate the top panel controls. You can adjust most features right from there. For the least useful award it has to be the effects. As I said they are not horrible, just OK, but the limitations of their use and placement requires a pedalboard to get all the tones I need.
Ease of Use
This is where this thing shines. Turn it on, adjust a few knobs to your taste and away you go. Tweaking on the panel is quick and easy. I've loaded the software up and played around with it some, but unlike the Katana you don't really need to deep dive software on this amp to make is sound great.
Quality
I'd say it's about what you would expect at this price point. It's well constructed and feels solid, but I can imagine it will get dinged up easily just like the Powercab does since it appears to be made from the same materials. But I'd rather have a great sounding amp that's prone to scuffs and marks than pay an extra $150 for better Tolex
Value
I think $399 as of this writing is a more than fair price for the amp you are getting. There's a lot of sonic bang for the buck. It doesn't have all the effects of most other modelers but the amp models alone make it worth the price IMHO.
Manufacturer Support
I've owned Line 6 products going back to the POD 2.0 but I've never had a reason to reach out to them directly. They have a great user forum with a lot of helpful and smart people that have steered me in the right direction more than once.
The Wow Factor
It's an amp that can easily replace a tube amp in most situations. At 32 pounds you get Vox, Marshall, Fender, and scorched earth gain at the flip of a switch.
Musical Background:
Playing over 40 years and still plunking around in bands
Musical Style:
Rock, Prog, CCM, whatever the guys feel like playing
15 of 15 people (100%) people found this review helpful. Did you?
Thanks for your opinion!
---
Submitted March 27, 2022 by Karl F in Tucson, AZ
"Blown away&quot
Verified Customer
zZounds has verified that this reviewer made a purchase from us.
I have never owned a modeling amp before but this one has my mind blown! I am an old school guy who played nothing but a JCM800 for the incredible tube tone and overdrive, but this amp not only brings back my memories of tube bliss but opened the door for every possibility of amp sound with effects built in. I now have 5 guitar amplifiers that will never get used again and will be up for sale soon! Line 6 and Yamaha knocked this one out of the park! p.s. After downloading the software, I can control the amp from my desktop 25 feet away from it with access to all the functions at a click of the mouse, amazing!
Musical Background:
Singer, song writer, guitarist, recording hobbiest
Musical Style:
Rock, Metal mostly
4 of 4 people (100%) people found this review helpful. Did you?
Thanks for your opinion!