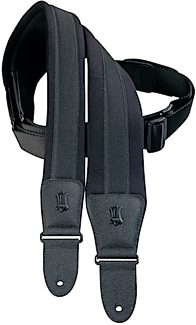 This neoprene-padded strap is so comfortable, you'll think your guitar is holding itself. It features 2-inch polypropylene webbing and tri-glide adjustment.
Overall User Ratings
(based on 3 ratings)
Submitted April 14, 2010 by a customer from mypacks.net
"A Pricey Strap That's Worth It&quot
This review has been selected by our experts as particularly helpful.
I expect to get many years of use from this strap. It's lasted for two years on one of my basses and it's like-new. If it outlives me, it'll got to my son with all the basses (and the gear, etc.). And chances are that this will happen.
Sound
N/A...well, unlike all-leather thick straps, it doesn't creak.
Features
The width of this strap is a back-saver for bassists. I play fivers exclusively and I equip them all (I've got five) w/this strap. Oh, not just the width: The neoprene padding makes you wonder why you ever bought a "plain leather" strap before. It just about massages your shoulder/upper back as you play. It stays put, not slipping and sliding away like the cheap straps. The strap is essentially made of seatbelt material (tough!), generously padded, with thick leather ends. I don't see it ever dying.
Ease of Use
It's a strap. But please: Stock up on this strap and various others suitable for bassists. You're always short on this one and the rest of your straps are strictly guitar-suitable.
Quality
Not a single defect can be found and I have five. The fit is perfect, but be forewarned: If you are below-average in height, avoid this strap unless you're a punk-rocker or anyone else who hangs the bass near the knees. See, this is a long strap--there's only so much you can shorten it. It's a definite no-go for jazz-heads who prefer to keep the bass (heheh, relax) close to their chins. I play aggressively, leaning on the bass, utilizing 100% finger-style w/a healthy dose of crazy slap. The strap laughs at the strain: It doesn't become distorted; it remains exactly the same length as you set it, and the leather does not get frayed. Blemishes? None. Only negative: This strap is overpriced for a mainly synthetic device. It should cost 2/3 the price. But there's nothing like it on the market: Wide straps are scarce and bassists need them.
Value
In spite of my displeasure w/the high sticker price, oh well. There is no other comparable strap on the market, so Levy's got it cornered. Get it, unless you want to spend far more on an all-leather Levy's strap. I'm not a big fan of those: I like the "give" inherent in neoprene.
The Wow Factor
How many people gape at your strap? C'mon...not unless you've got one priced in the hundreds with gorgeous but useless appointments. Let them gape at you. Then, allow them to gape at your bass.
Musical Background:
Active Musician
19 of 20 people (95%) people found this review helpful. Did you?
Thanks for your opinion!
---
Submitted November 11, 2014 by Brandon Linderman in Pittsburgh, PA
"ITS STRETCHY! !!&quot
Verified Customer
zZounds has verified that this reviewer made a purchase from us.
I absolutely love this strap. I play very aggressively on stage and the padding and stretchy material make it ideal for me. It doesn't even feel like you have a guitar on!
Musical Background:
I am a professional musician whos been playing guitar for 14 years. I play 6 and 7 string electric and a little acoustic
Musical Style:
metal, rock, nu metal, hardcore, power groove, punk
4 of 4 people (100%) people found this review helpful. Did you?
Thanks for your opinion!
---
Submitted July 30, 2022 by a customer from gmail.com
"Give Me Leather, or Give Me Death...&quot
Verified Customer
zZounds has verified that this reviewer made a purchase from us.
This strap SUCKS!!!I'm sorry, Levy's, you guys are usually spot on with your products, but this is a travesty. Don't get me wrong, it's the most comfortable strap that I have ever owned. I can wear it for hours and the weight of my keytar doesn't even register.But what makes it so comfortable is the entire problem. The padding is stretchy, and even though I tighten up the strap adjustment buckle to its shortest length the padding just lets the instrument sag down to where it's hard to easily feel and/or see what I am doing.
Did you find this review helpful?
Thanks for your opinion!